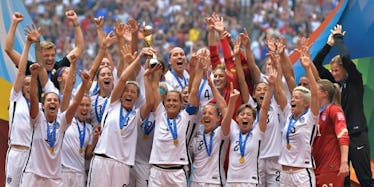 USWNT Got $2M For Winning World Cup, Germany's Men's Team Got $35M
Facebook
Last night, the Women's World Cup final set a television ratings record and dominated Twitter.
World Cup final's 15.2 rating is highest metered market rating ever for a soccer game in the U.S. on a single network http://t.co/C5RBZMIcwo — Travis Waldron (@Travis_Waldron) July 6, 2015
And while the women's game appears to have grown exponentially in popularity over the last month, there are still stark reminders of FIFA's unequal treatments of men and women in the sport.
For instance, the German men's national team received $35 million from FIFA for winning the 2014 World Cup, but the US women's team is set to earn just $2 million for their triumph last night.
Fair? Absolutely not.
But, after controversy arose over playing on turf fields and FIFA President Sepp Blatter chose not to attend the final match or present the USWNT with the World Cup trophy, this latest example of inequality, unfortunately, feels somewhat par for the course.
There is clearly a long way to go to achieve equality across men's and women's sports.
Citations: FIFA is Giving the US 2 Million For Its World Cup Win It Gave Germany 35 Million in 2014 (For The Win!)