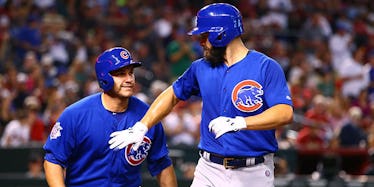 Why I'm Calling It Now That The Cubs Will Win The 2016 World Series
Mark J. Rebilas-USA TODAY Sports
After a short and mild winter, baseball season is finally upon us. It marks a time when fans welcome new faces to their team, in hopes of reviving dreams of watching their favorite players hoist the Commissioner's Trophy at season's end.
But unfortunately you will not have much to celebrate this season. That is, unless you're a Chicago Cubs fan.
Yes, I'm calling it.
The Chicago Cubs will snap their 108-year, championship-less drought, claiming their first World Series title since 1908. To put into prospective how long ago that was, the United States consisted of only 46 states at that point.
Taking a look back at what the Cubs accomplished last season is quite impressive. A team that finished the 2014 regular season dead last in the NL Central, came back the following season and finished 97-65, earning the third best record in all of baseball.
But how can a team go from bad to good in a span of only a couple of months? Well, thanks to the franchise's masterminds, team president, Theo Epstein and general manager, Jed Hoyer, they made some earth-shattering offseason moves.
These moves included convincing one of baseball's most respected managers, Joe Maddon, to leave the Tampa Bay Rays, as well as signing starting pitcher, Jon Lester, away from the Boston Red Sox.
Bringing in baseball guys of their caliber, ushered in the beginning of a winning atmosphere. Something the organization had been lacking for years.
Prior to those acquisitions, the Cubs front office had become notorious for taking on hefty contracts of players already in the later stages of their careers. But this time around, things seemed to have changed from within.
Now Cubs fans, I know you've all heard bold predictions similar to this one, but there truly is something special in the water on Chicago's North Side. Perhaps Chi-Town has found its very own fountain of youth.
Young stars like Anthony Rizzo, Addison Russell and reigning NL Rookie of the Year Kris Bryant, to name a few, have stepped up and carried a once struggling franchise to a new competitive pinnacle. A team once considered young and inexperienced, holds all the benefits of being young and no longer lacks seniority.
Listen, I know getting swept in the NLCS is not the most ideal way to end a dream season, but it happens to the best of us, right? Take a look at the reigning champion, Kansas City Royals. Similar to the Cubs in age, it took them two tries to finally claim their well deserved World Series crown.
I mean, c'mon!
A team that includes the 2015 Manager of the Year, Rookie of the Year AND the National League Cy Young Award winner is almost unfair.
Also, the fact that this past offseason they lured game-changing veterans like John Lackey and Jason Heyward from their division rivals, the St. Louis Cardinals, goes to show this team is stacked from top to bottom.
A team and fanbase that has been the laughing stock of not only Major League Baseball but professional sports for the last century, finally has a substantial amount of hope.
In spite of the Curse of the Billy Goat and the Steve Bartman foul ball incident that kept Chicago out of the 2003 World Series, Wrigley Field will no longer be home to a losing ball club.
Come opening day 2017, one of baseball's most historic stadiums will breath new air again. There won't be any moping around the North Side any more, because those who have stood with the lovable losers will experience the year of the Cub.