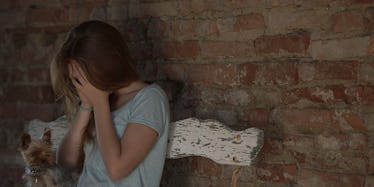 The Problem For Colleges Is Not Athletes, It's A Lack Of Respect For Women
Cultura/REX/Shutterstock
The story of Brock Turner and his now infamous sexual assault crimes at Stanford University is not the only one of its kind that has emerged this month.
Like Turner, Baylor University's football program has been at the center of a scandal that is also a hybrid of both a sports story and one of sexual assault on college campuses.
In Baylor's case, an independent report commissioned by the school's Board of Regents and conducted by Philadelphia-based law firm Pepper Hamilton found that the university was egregiously unprofessional and counterproductive in addressing sexual assaults claims, particularly those that involved football players.
In one case, the local police department wrote that it had informed Baylor about a sexual assault claim involving two football players in April 2013. According to ESPN's Outside The Lines, Baylor didn't begin investigating until September 2015.
A second case saw Baylor clear a different player accused of sexually assaulting a female soccer player without requesting to look at the victim's rape kit. The player would later be found guilty of second-degree sexual assault.
In another case, a linebacker had six women who accused him of sexual assault on separate occasions. He would later be sentenced to 20 years in prison.
Practically all of the cases cited as examples of Baylor's failing in handling such cases featured the constant themes outlined by Pepper Hamilton.
Responses to rape at the Waco, Texas-based school were "inadequate." Measures were taken to cover up the investigations from public view. The decision making by some staff at the Bears' athletic department "posed a risk to campus safety." And the football staff "improperly discredited complainants" and impeded the accusing parties of fair processes.
The differences between the narratives of Baylor's scandal and Brock Turner's trial are obvious -- the former, in particular, is much more complex. But the two subjects do share a similarity: they've both drawn accusations that sports play too big of a role in deciding the futures of the accused.
In Baylor's case, Pepper Hamilton said the university "reinforced an overall perception that football was above the rules." In Turner's case, many have frowned at the role the swimmer's athletic accolades have played in describing him.
Turner's victim herself took issue with that in a letter she read to her abuser in court.
And then, at the bottom of the article, after I learned about the graphic details of my own sexual assault, the article listed his swimming times. She was found breathing, unresponsive with her underwear six inches away from her bare stomach curled in fetal position. By the way, he's really good at swimming. Throw in my mile time if that's what we're doing. I'm good at cooking, put that in there, I think the end is where you list your extracurriculars to cancel out all the sickening things that've happened.
On both sides, there is an insinuation that sports is held in such a high esteem that it comes at the expense of sexual assault victims. But on both sides, there's also danger in reducing the conversation to the role of sports on college campuses, while conveniently letting all of us off the hook for the more crucial, much more uncomfortable truth.
It is the basic lack of respect for women -- in our society, this country or our schools -- that is most detrimental to the efforts to properly address sexual assaults.
Much bigger than any football problem is the fact that there is a sexism problem.
We know it, we see it, and there are far too many numbers that support that claim -- whether it comes to the violence women face, income inequality, etc. -- to even waste time trying to deny it.
And when it comes to how that problem with sexism relates to Baylor's scandal, in particular, the roots are easy to spot.
In April 2011, the Department of Education sent out a directive imploring all colleges to employ a Title IX coordinator who would, among other things, help resolve sexual assault complaints. Baylor didn't appoint a full-time employee to that role until 2014.
The failure to make a timely appointment wasn't the fault of the football team, it was a failure by the school, a failure that showed a lack of regard for the severe issues that women face on campus.
One of the six women who had accused the aforementioned linebacker, Tevin Elliot, was a freshman student at Baylor when Elliot raped her twice in one night.
After reporting the rape to police, she told ESPN that she was denied security, counseling and academic support after requesting all three of the university. Title IX federally mandates that all three be provided to sexual assault complainants.
The failure here rests with multiple departments at Baylor, none of them related to the football team. And the fact that those services weren't provided, furthermore, shows a lack of respect for the traumatic experiences that women can have after instances of sexual assault.
Hilary LaBorde, the McLennan County Assistant District Attorney, might have given the most blunt and damning assessment of the way rape allegations were handled at Baylor.
In addition to claiming that Baylor officials faulted a victim for having a prior relationship with a convicted football player, LaBorde told Outside the Lines,
I feel like the woman doing the investigation [at Baylor] had an almost 1940s idea of how women should behave. They didn't have someone that seemed to know anything about how college rape occurs.
When a professional in an academic setting can't investigate such matters without avoiding the most amateurish mistake, victim blaming, it shows a lack of regard on the university's part for the need for personnel who can competently handle women's issues on campus.
As for the actual victim blaming itself, that has always been as clear a sign as ever that there is a lack of understanding that all women in such cases are deserving of respect -- not just the women who were sober or hated their abusers, but all women.
The February 2016 report from Outside the Lines that details much of the info used here had one other damning statistic: the US Department has been investigating over 150 complaints related to the way institutions handle sexual assault.
It would not be surprising if most of those 150 complaints stemmed from issues that, similar to Baylor, are not exclusive to athletics. On the flip side, it's much more likely that those complaints stem for one undeniable fact:
There is a basic lack of respect and consideration for women's safety and their well-being. Any credible discussion about issues of sexual assault on college campuses, wether they involved athletes or not, would do well to start there.