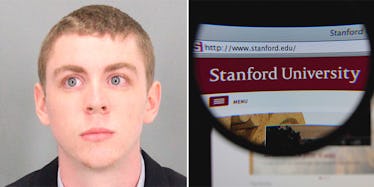 10 Other Top College Athletes You Forgot Were Also Accused Of Rape
REUTERS/Shutterstock
With all the media coverage surrounding the Stanford University rape case involving swimmer Brock Turner, it's easy to forget that his unnamed victim is not the only woman who has been assaulted by a student-athlete.
A Benedict/Crosset study released in the 1990s and reported by the National Coalition Against Violent Student Athletes found that male student-athletes only make up 3.3 percent of the population, but they account for 19 percent of sexual assault perpetrators. One in three sexual assaults on campuses are committed by athletes. Unfortunately, no other similar studies have been released since then, but rape involving male student-athletes and the subsequent tendency of universities and courts to overlook their specific cases continues to be a very real problem.
Let's take a second to look back at some (of the many) other college athletes accused of rape. Some of them were convicted, and some were not.
Cory Batey, Vanderbilt Football Player
The case: A former Vanderbilt football player, Cory Batey, was accused of raping an unconscious girl in a dorm room while his teammates videotaped and took pictures. One friend was even sending pictures to others as it was happening. According to the Washington Post, prosecutors told jurors,
[T]he woman was raped in the dorm room in a 32-minute attack that ended with Batey urinating on her and that she was then taken out into a hallway and left there like trash.
The verdict: Corey Batey was found guilty of aggravated rape in April of this year. He faces 15 to 25 years in prison.
Reade Seligmann, Collin Finnerty And Dave Evans, Duke Lacrosse Players (Not Charged)
The case: Ten years later, The Huffington Post revisited the infamous case and laid out the foundation:
Duke lacrosse players Reade Seligmann, Collin Finnerty and Dave Evans were accused of raping Crystal Mangum, a North Carolina Central College student who was hired to strip for the team during a party.
The verdict: North Carolina attorney general, Roy Cooper, exonerated all three young men, stating there was no real evidence to prove their guilt.
Jameis Winston, Florida State University Football Player (Case Dismissed)
The case: Former student Erica Kinsman sued the school after she was allegedly raped by Heisman Trophy-winning quarterback, Jameis Winston.
The verdict: The case never made it to trial, as the school reached a $950,000 settlement with the student.
Jack Montague, Yale Basketball Player (Not Confirmed)
The case: Although the details of the case of Yale basketball captain Jack Montague were kept extremely confidential by the university, what we do know is this:
[H]e had a consensual sexual relationship with another student in 2014. A year later, in fall 2015, Montague was summoned to appear before Yale's University-Wide Committee on Sexual Misconduct.
The verdict: Montague was expelled months following the investigation.
Dominic Artis, Damyean Dotson And Brandon Austin, University Of Oregon Basketball Players
The case: According to an article covering the case in The Huffington Post,
Dominic Artis, Damyean Dotson and Brandon Austin were named in a police report alleging they raped a female student on March 9 in multiple locations.
The verdict: After facing extreme scrutiny for letting them remain on the team despite the initial accusations, The University of Oregon eventually deemed the three players guilty and barred them from campus for up to 10 years.
Hakop Jack Kaplanyan, UCLA Water Polo Player (Case Dismissed)
The case: According to the ABC 7 report covering the case,
Prosecutors accused Kaplanyan of attacking three women — all UCLA students — between October 2012 and April 2013. Kaplanyan had been facing one felony count each of forcible rape, false imprisonment by violence, possession of matter depicting a minor engaging in sexual conduct and a misdemeanor count of sexual battery by restraint.
The verdict:  Judge George Lomeli and the DA decided there was not enough evidence to move forward with the case. According to the same ABC 7 report,
Kaplanyan was also ordered to undergo one year of sexual-assault counseling and perform 60 days of Caltrans work. He will have a strike on his record, but he will not have to register as a sex offender.
Baylor University's Football Team
The case: After many rape cases centered around Baylor's football team and a lot of media scrutiny for their seemingly systematic willingness to ignore the problem, Baylor University's Board of Regents launched an internal investigation, stating,
There are significant concerns about the tone and culture within Baylor's football program as it relates to accountability for all forms of student athlete misconduct.
The verdict: The Board "found specific failings within both the football program and Athletics department leadership, including a failure to identify and respond to a pattern of sexual violence by a football player and to a report of dating violence." Football coach Art Briles and president Ken Starr were both asked to step down from their positions.
These were only a few of the many cases we came across while researching this article.