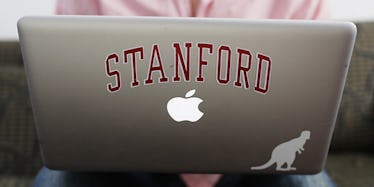 Stanford Victim Releases Harrowing Letter She Read To Her Rapist In Court
REUTERS
Your honor, if it is all right, for the majority of this statement I would like to address the defendant directly.
With that sentence, the victim of the notable Stanford University sexual assault case began a powerful letter she would read in court directly to the man who was convicted of trying to rape her.
That man is 20-year-old Brock Allen Turner, a former swimmer at Stanford, who left the school after being accused of sexually assaulting a woman after a frat party.
According to The Guardian, Turner had been seen "thrusting" on top of an unconscious woman behind a dumpster in January 2015 before two graduate students who were biking through campus noticed the scene and intervened.
The pair of bikers held Turner until police arrived, at which point officers found the woman "completely unresponsive."
This past week, Turner, who faced a maximum of 14 years in jail, was sentenced to six months in county jail and probation.
In what was an apparent show of leniency by the court, Judge Aaron Perksy said,
A prison sentence would have a severe impact on him… I think he will not be a danger to others.
Before the sentence was given, though, the woman, now 23, addressed her attacker on Thursday with a horrifying letter that went into graphic detail of how she was treated and how the ordeal traumatized her.
In her letter, the woman said,
I had multiple swabs inserted into my vagina and anus, needles for shots, pills, had a Nikon pointed right into my spread legs. I had long, pointed beaks inside me and had my vagina smeared with cold, blue paint to check for abrasions. After a few hours of this, they let me shower. I stood there examining my body beneath the stream of water and decided, I don't want my body anymore. I was terrified of it, I didn't know what had been in it, if it had been contaminated, who had touched it. I wanted to take off my body like a jacket and leave it at the hospital with everything else.
There is no one quote that stands out the most from the harrowing and sobering letter because it is important in its entirety.
The woman's letter provided a window into the unenviable world of a sexual assault victim and should only heighten attention to what is a severe problem for colleges across the country.
She said,
You took away my worth, my privacy, my energy, my time, my safety, my intimacy, my confidence, my own voice, until today.
The whole of the letter, which is over 7,000 words, can be read in its entirety on BuzzFeed News.
Citations: Ex-Stanford swimmer gets six months in jail and probation for sexual assault (The Guardian), Here Is The Powerful Letter The Stanford Victim Read Aloud To Her Attacker (BuzzFeed)