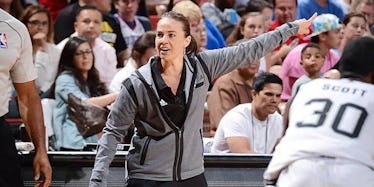 Becky Hammon Could Easily Become The NBA's First Female Head Coach
Facebook
With countless women dominating in sports across the world, this summer has certainly been one for the books.
These female athletes have taken home gold medals, won ESPY awards and truly redefined what it means like to "play like a girl."
Not only did this summer fix female stigmas, it also made sporting history.
Recently, the Arizona Cardnials hired Jen Welter, the first female coach in the NFL. Now it's the NBA's turn.
After a 15-year career in the WNBA, San Antonio Spurs Assistant Coach Becky Hammon became the first female coach to win the NBA's Summer League.
Hammon started her basketball career as a young girl and would eventually play for Colarado State. After college, she went professional in 1999 for the New York Liberty.
After a few team switches and an outstanding career in the WNBA, Hammon earned six WNBA All-Star titles and two All-American First Team appearances.
With an impressive résumé, the Spurs easily chose Becky Hammon for the job. She's clearly trusted by Spurs Head Coach Gregg Popovich, and her victory shows Pop was right to place his faith in her basketball IQ.
Although she's only been in a coaching position for one summer, she may become the first female head coach in the NBA sooner than many expected.
Already stealing the hearts of all NBA fans, Hammon has been dominating the basketball scene this summer.
Hammon also knows how to handle any media that comes her way. She's charming, knowledgeable and people have been praising her left and right.
Although sad to lose such a great player, WNBA President Laurel J. Richie, sees Hammon going far in her coaching career. She said,
"On behalf of the WNBA, I want to congratulate Becky on today's announcement. "Voted one of the WNBA's Top 15 Greatest Players, Becky is a true leader both on and off the court. Her great knowledge of and passion for the game will be an asset to the San Antonio Spurs when she assumes her role as an assistant coach following her retirement from the WNBA."
San Antonio Stars Head Coach praised Hammon, too, saying:
"I know she'll do a great job for the Spurs, and I know the Spurs will be benefited by her presence."
Becky Hammon has earned herself a powerful reputation for her knowledge and passion for basketball.
Last season, she served an unofficial internship with the team. She was often seen attending practices and sitting behind the bench during the games, learning how the team operates and how each player works.
She has plenty of playing experience and has proven her commitment to the team with her internship and how she handles the players this summer league.
She already earned the respect of her players by being right in the middle of the game. She sees the small details through her experience while overseeing the big picture as a coach.
Hammon knows how to treat her players like a teammate herself, but also knows how to be tough when the job demands it.
Not only is her skill and dedication clear as day, she also is presented with the perfect timing.
Female athletes have been on fire recently, and if Hammon lands the job, the NBA could progress in many unexpected ways.
Becky Hammon has already proven she has what it takes to be a coach for the San Antonio Spurs, and she just may be the first female head coach in the NBA.