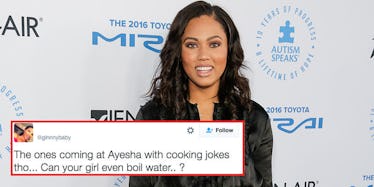 Ayesha Curry Fans Clap Back At The Haters After Her NBA Twitter Rant
Variety/REX/Shutterstock
I really don't think there's any other way to say this: Twitter was so lit on Thursday night, and a lot of it had to do with Ayesha Curry.
First, we had LeBron James forcing a do-or-die game seven with a defiant performance that could be summed up in one Vine:
Then we had Steph Curry hilariously throwing his mouthpiece at a fan that was JUST trash talking him:
But nothing, and I mean nothing, compares to the way Twitter lit up after Ayesha Curry got rid of all filters and called out the NBA. The phenomenon that took place next occurred in three parts and deserves a little explaining.
So here we go.
When Ayesha tweeted out that the NBA was rigged, Twitter did what it does best: made hilarious jokes.
The jokes went on and on, and people laughed and laughed. But then, those of us who were both laughing and also count ourselves Ayesha fans were put in the awkward position of being accused of flip-flopping.
Switched up? Turning on the leader? Huh?!
Look, the Ayesha Curry jokes had to happen. Twitter yields for no man or woman, especially if said woman lunges herself in front of the firing squad.
That's right, the game's the game and Ayesha lost last night. But that does not mean the end of "get you an Ayesha Curry Twitter."
And if there's anything to prove that, it's the occurrence of the Twitter phenomenon of all Twitter phenomena: the backlash to the backlash.
Yes, the Ayesha hive got in formation and clapped back at her haters last night, and the tweets were oh-so-funny.
Ayesha Curry fans were not having the disrespect.
Some people even took it a step further and defended her actual action.
But everyone knows that the funniest way to clap back is to go at everyone else's relationship.
Clearly, the "get you an Ayesha Curry" movement is still alive.
Besides, who can hate Ayesha? She's inspiring others to share how their lives were rigged, too.
Don't worry Ayesha — the hive got you!
Ayesha Curry hitting the running man in front of a private jet.. Now way okc wins tonight pic.twitter.com/2Rc0E3sxzE — 2TONEDASUPASTAR (@2TONEDASUPASTAR) May 29, 2016