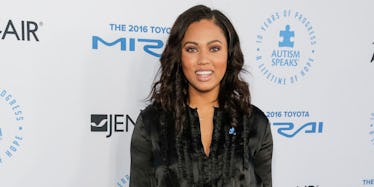 Ayesha Curry Just Called Out ESPN's Stephen A. Smith For Comparing Women
REX/Shutterstock
Ayesha Curry is not backing down: That much is clear after the wife of Steph Curry called out the biggest name in sports media, Stephen A. Smith.
This instance of her speaking out is the direct result of her comments about Game 6. The first lady of the NBA has been a trending topic for practically the past 12 hours, ever since she accused the NBA of rigging games.
This means she was always going to be a topic of discussion on Friday's slate of various sports talk shows.
That was certainly the case for arguably the biggest show of them all, ESPN's "First Take." During one of the show's segments earlier this morning, ESPN headliner, Stephen A. Smith, shared his thoughts about Ayesha Curry's Twitter outburst.
The veteran sports journalist essentially compared Ayesha Curry and Savannah Brinson, LeBron James' wife, by discussing the similarities in their appearance. But he also made it a point to note the differences in the amount of attention they attract.
Smith made the comparison, and then said that the media's reactions would be much harsher if James' wife had made similar comments. He also said Ayesha was "out of pocket" for accusing the NBA.
Well, Ayesha was having none of it. She decided to send this tweet directly to him:
But the story doesn't end there.
After all, the nature of live TV is such that it allowed Stephen A. to respond to Ayesha's tweet in real time, after he'd heard about what she posted online.
This was his response.
For the full context of Stephen A.'s initial comments about Ayesha Curry, check out the video above.
As for the actual NBA Finals series? With all this drama as the backdrop, it looks like Sunday will bring one helluva finale.