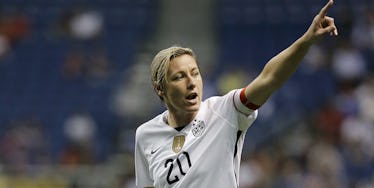 Abby Wambach's Profound Farewell Message Is Simple: 'Forget Me' (Video)
Getty Images
By seemingly every measure and statistical standard, Abby Wambach is the most successful US soccer player the world has ever known.
Her accomplishments read like a laundry list of greatness, and those who watched her play know she did things that won't necessarily show up in the record books, though those things most definitely determined the outcomes of countless games.
But, Wambach's era of dominance and brilliance came to an end.
So many who walk away from a career, be it soccer, basketball or any other profession, want their greatness to be remembered forever.
They want to be etched in the fabric of their crafts for decades and centuries to come.
Not Abby Wambach.
As the 35-year-old Rochester, New York native walks away from the game for good, her farewell message is simple and poignant:
Forget me.
Forget her records, her goals, her medals and every on-field accomplishment she achieved.
Forget her name, forget her number and forget Mary Abigail Wambach did more for women's soccer than even she could've imagined.
Forget because, for Abby, her greatest achievement will be having helped the game grow so huge no one will even remember her.
Selfless, humble and successful, there will never be another Abby Wambach.
And that's perfectly fine with her.