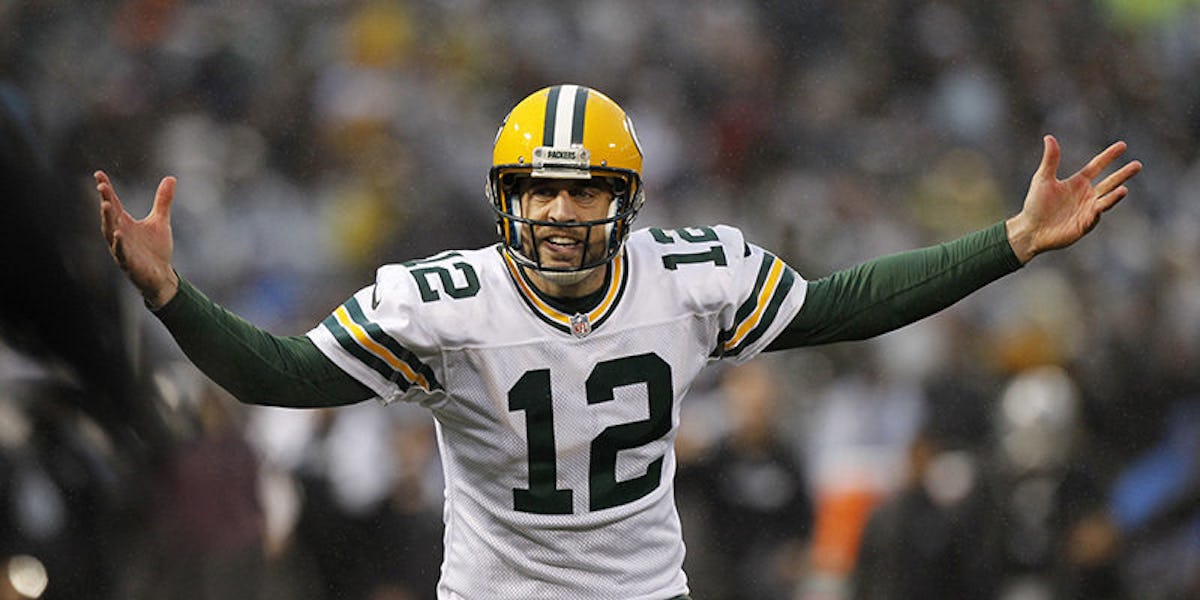 A Fan Accused Aaron Rodgers Of Ruining The NFL And The QB Wasn't Having It
USA TODAY Sports
Note to all: Don't try to come at Aaron Rodgers, especially if you don't want to get called out.
Richard Klatt from Wisconsin had to learn that lesson the hard way, after the Green Bay Packers quarterback fired back at a bit of criticism he received this week.
It all started when Klatt wrote Rodgers was "ruining" the game of football with his hard counts, which are meant to trick the defense into jumping offside and incurring a penalty.
Klatt's comments appeared in the Milwaukee Journal Sentinel.
Klatt said,
Come on Packers, I think you're above this kind of play. Are you? Can you get those 5 yards without the tricks? You're ruining the game of football.
It wasn't too long 'til Aaron Rodgers caught word of the criticism and, well, the quarterback was having none of that.
Rodgers response essentially took a page out of Stephen Curry's book, after the Golden State Warriors star responded to LeBron James comments on the MVP award.
It's a good move, too, basically saying, "I would respond, but you're unworthy of response."
That's definitely worth sending in an email to a co-worker this week.
Citations: Aaron Rodgers fires back at fan accusing him of ruining football with hard counts (For The Win)