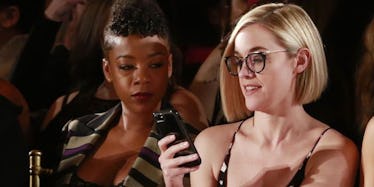 This Person's 'BFF Goals' Comment On Lesbian Wedding Pic Is Next-Level Clueless
REX/Shutterstock
We all fan-girled real hard over the weekend after we saw two women from the hit Netflix series "Orange is the New Black" get hitched.
Samira Wiley, who plays the beautiful Poussey Washington on the show, married her longtime SO, Lauren Morelli, a writer for the same series. The two lovely ladies' intimate ceremony took place in Palm Springs, Martha Stewart Weddings reported.
Several people took to social media to congratulate the happy couple on their nuptials.
But one Twitter user, @VeganMegan, seemed a little, uh, confused by the picture of Wiley and Morelli.
*scratches head until scalp bleeds*
Other Twitter users stepped in to gently try and let @VeganMegan know this was, indeed, a marriage between two gay women.
Some were a bit speechless, and didn't even know where to begin.
Others were more direct about the lack of husbands in this relationship.
@HannahKlaubo broke it down until it literally couldn't be broken down any further.
Despite the many attempts to get @VeganMegan to understand the truth, the Twitter user refused to listen.
*bangs head on desk repeatedly*
People were quickly getting fed up with @VeganMegan's ignorance.
The passive aggressive tweets rolled in pretty quickly.
How do we make this any clearer?
Would it help if we used a literal clip from "OITNB?!"
The answer appears to be no, since @VeganMegan then tweeted out:
Wait a minute, something seems fishy here...
A closer look at @VeganMegnan's Twitter account shows this person might just be dedicating his or her whole social media presence to being a complete and utter troll.
For one thing, the Twitter bio literally describes the person as a "single mom with no kids."
And this isn't the first time @VeganMegan has trolled a picture of a same-sex wedding:
BuzzFeed News spoke with the person running the account, who claimed to be "male and open-minded."
The person said,
I actually don't judge anybody irl. If I was American I would've voted for Hillary. It's my humour. Like people jump to conclusion so fast. It was something an airhead would say. I'm sure people would say something like that.
All jokes aside, it's refreshing to know @VeganMegan appears to not actually be homophobic.
However, the user's tweets really only serve to distract from the happy news of Wiley and Morelli's marriage.
Is it really necessary to troll the news of their relationship and thus draw more attention to yourself? The important story here is two beautiful, successful women tied the knot in a totally legal and awesome ceremony.
Save your jokes for another time, @VeganMegan, and let people bask in their deserved happiness.
Citations: Exclusive: Samira Wiley and Lauren Morelli Are Married! (Martha Stewart Weddings), Someone Commented "BFF Goals" On This Photo Of A Lesbian Wedding And Everyone Lost Their Shit (BuzzFeed)