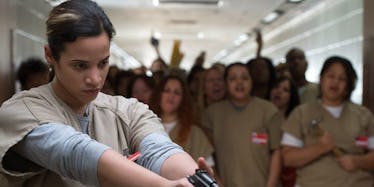 First 'Orange Is The New Black' Teaser Finally Gives Us A Season 5 Release Date
Netflix
ll right, nobody panic, but season five of "Orange Is the New Black" is actually happening.
And we actually know WHEN it is happening, too, thanks to this very short teaser Netflix dropped on Wednesday.
These 15 seconds don't tell us very much EXCEPT... drumroll please...
"Orange Is the New Black" season five will premiere June 9, 2017.
I know summer feels like forever away, but that's really only four months from now. In just four short months we'll be back at Litchfield and FINALLY have some answers, hopefully.
*If you still haven't watched season four of "OITNB," you might want to stop reading now. Major spoilers ahead. Also, damn, you slow.*
In case you don't remember, because it has been a while, the season four finale of "OITNB" was, uh, pretty much batshit crazy.
Basically everyone's favorite character, Poussey Washington, was brutally choked to death by Officer Bayley.
Then, the whole season ended on Daya pointing a gun at the guards, while the other inmates cheered her on to shoot.
So like... what's going to happen?!
On the one hand, I kind of want Daya to shoot those stupid guards in their faces. On the other, that would mean Daya would never leave prison, and I don't want that.
We do know a few things about season five, though.
Last week at the SAG Awards, actress Danielle Brooks, who plays Taystee, revealed to E! season five will take place over the course of just three days.
Danielle said,
Season five is done over the course of three days: You will watch 13 episodes, and find out what happens in the course of three days. So, it will be very detailed, very intense, and you better get ready.
Oh my Godddd, OK, never mind, I've changed my mind: Four months is too long to wait.
Nobody talk to me on June 9 because this is what I'll be doing all day.