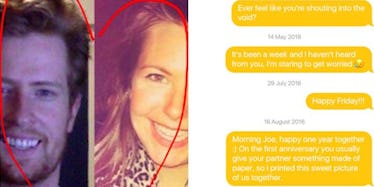 Woman Trolls Guy Who Blocked Her On Bumble By Pretending He's Her BF For A Year
Imgur
There are some people who just don't know how to take a hint when it comes to dating.
Remember when we showed you all those guys who had no chill when it came to courting a woman?
Well, it turns out those dudes aren't the only ones who need a lesson in digital dating.
A woman who goes by the username emmaemmaemmap on Imgur recently shared a photo of a pretty long conversation between her and her "boyfriend," Joe.
However, if you take a look at the exchange between these love birds on Bumble, you'll notice one little problem.
It's a pretty one-sided convo.
Apparently, Joe blocked this girl shortly after they matched on the dating app.
However, emmaemmaemmap is the kind of woman who doesn't know how to take no for an answer. So ,she decided to troll this Bumble user by pretending he was her boyfriend for over a year.
That's right. This ghosted gal sent her beloved Joe a series of messages throughout the year and this is basically the greatest fictional romance since Bella Swan and Edward Cullen.
If you take a look at the messages, you'll see that things start out a bit rocky between the two back in August 2015.
After sending mixed signals for a few months, emmaemmaemmap messages Joe in April to tell him it's over because she's seeing someone else.
Apparently, things didn't work out between emmaemmaemmap and her new boo because she messaged Joe back a few weeks later to tell him she's single again.
Clearly, Joe showed no objections to giving it another shot with this girl because emmaemmaemmap messaged him in August to wish him a happy one year anniversary.
In fact, she even made him an adorable picture that shows their Bumble profile pictures in a heart to let Joe know how much she loves him.
Toward the end of August, their relationship seemed to hit another rough patch. She was pretty salty about the fact that Joe didn't reciprocate with an "I love you too," on their one year anniversary.
Then she spent the next few months sending Joe random texts to let him know she's still thinking of him, despite his silence.
In addition to the one-sided convo, emmaemmaemmap also posted a caption with the picture that read,
Did Joe block me? Did he delete his Bumble? Things were really starting to get serious. Help me #findjoe!
Now people are leaving all sorts of comments about this ghosted girl's quest to track down the ever-elusive Joe.
Some people tried to give emmaemmaemmap some solid advice by telling her that patience, persistence and positive pregnancy results are usually the key to recognizing true love.
Others told this girl she might have better chance of finding her Bumble Bae by simply looking for a screenshot of her conversation on the "Creepy PMs" section of Reddit.
Finally, one of the less optimistic commenters tried to help this girl out by telling her she should stop searching for Joe -- unless of course, Joe happens to be a therapist.
Based on this girl's year-long conversation with her imaginary boyfriend, that last piece of advice may not be such a bad idea.
Citations: Help me find Joe! Where did he go? (Imgur)