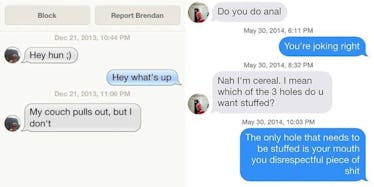 25 Guys Who Have Absolutely Zero Chill When It Comes To Dating (Photos)
Tumblr
If you've ever experienced the joy of dating apps like Tinder, you've probably noticed there are two types of guys out there.
On one hand, there are the normal, respectable dudes who are just looking to swipe right and score a date with a pretty girl.
On the other, there are the f*ckboys who just want some ass and have absolutely no chill when it comes to courting a woman.
I'll admit, it's pretty annoying (and a bit of a letdown) when you swipe right on a hot guy and he starts the conversation with "send me nudes."
But if there's one thing I love just as much as putting those douches in their place, it's laughing at the expense of other people's dating disasters.
So we set out to find a bunch of hilarious messages from dudes who haven't quite figured out the whole dating thing yet and could definitely use a lesson or two on how to talk to a lady.
Take a look at the pictures below to see guys who have zero chill when it comes to dating.
Nothing puts you in the mood like pizza.
That seems pretty painful for just 12 seconds.
Oh bye.
It will be so mother effin' romantic.
Yes because that definitely makes you a hoe.
I'm pretty sure that's not how it's supposed to go.
You know... a couple drinks, a few laughs, some anal...
But for real, lemme get that pic.
Damn, autocorrect is always doing these crazy things.
 Girl, you got my privates standing at attention.
What's the difference between a couch and a f*ckboy?
So, are you down for porn?
Let me be your Batman.
I'm gonna take you on a walk to remember, girl.
 So... does that mean you don't want to?
I'm not a scientist, but I'm pretty sure that's not how biology works.
No girl can resist this opening line.
This is proof you should never ask "why?".
I want your bad romance... or at least second base.
 That's my favorite kind of f*ck.
You want some of this footlong?
Well... that escalated quickly.
Can you like... not?
 So... you down to get dirty?
Nah, girl. I'm cereal.