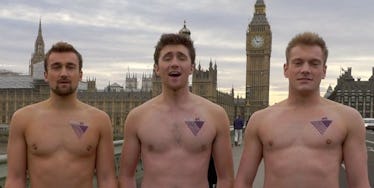 Hot British Rowers Strip Naked In The Middle Of London To Fight Homophobia
YouTube
Even through the most unlawfully cold and frigid temperatures, the men of England's Warwick Rowers know exactly how to bring the heat.
The sports team's efforts to express their support against homophobia have shined bright since back in 2009, whether through work with their Sports Allies program or with proceeds from their scantily clad annual nude wall calendar.
For their latest venture to combat close-mindedness and help ensure equality for all, three of the gorgeous athletes took it upon themselves to deliver a personal message to President and Vice President-elects Donald Trump and Mike Pence — naked.
They've certainly got my attention.
Set directly outside Westminster in London (home to British government officials), players Lucas, Tom and Cian spoke candidly about equality, inclusion and the basic idea of human rights in every country.
"As straight allies," said Tom, the stocky blonde one, "we believe that everyone should have the same human rights, regardless of gender or sexual identity."
"And as athletes," added Cian, the sexy one in the center, "we believe that sport can play a vital role in creating an inclusive, healthy and happy world for everyone."
"This year, as every year," said Lucas, the cute one rocking a goatee, "we have shed our clothes as a symbol of breaking down barriers, a demonstration of the contribution that sport can make to health and wellbeing, and as a reminder that we are all equals in this challenging journey called life."
They close out their quick video to announce they've sent over their "world-famous calendar" to Trump and Pence, in hopes they'll acknowledge their stance and contribution to making a difference in their own, stripped down way.
People may consider their actions to be wasteful and unsupportive when it comes to LGBT rights, but to be honest, it's hard for anyone to make judgment calls from the confines of their couch.
The Warwick Rowers are prominent supporters of the gay community who clearly have no issue baring it all to voice their opinions for what they believe in, even in the roughest of weather.
If Trump and Pence don't want their calendar... they can forward it my way.
I will GLADLY take it off their hands.
Citations: Watch: The Warwick Rowers Have a Special Message for Donald Trump (HIV Plus Magazine)