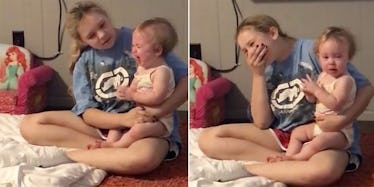 Baby Stops Crying When She Hears Marvin Gaye's 'Let's Get It On' In Hilarious Video
Facebook
Most couples blast Marvin Gaye's sultry jam, "Let's Get It On," during a hot bang session to amp up the mood.
The raunchy lyrics, combined with Gaye's deep and soulful sounds, certainly make for the perfect baby-making music... but apparently, it doesn't stop there.
A new video circulating the internet shows that Gaye's voice also has the power to calm down a crying baby.
In the footage above, you can see 11-year-old Kayden sitting on the floor with her adorable baby sister, Brilynn.
As expected, the 1-year-old is up in arms, crying over hunger, a shitty diaper or whatever else may work up a baby that much. (Maybe she's crying over Trump's presidency. Maybe she's crying over Malcolm's early exit on this season of "Survivor." It could be anything.)
Eager to quiet Brilynn down, Kayden finds an unusual resolution in the form of a Reese's Peanut Butter Cup commercial.
But it's not the chocolatey, peanut-butter goodness that catches the little girl's attention.
Instead, it's the accompanying track:
Yes, that is the 1973's hit classic, "Let's Get It On" by Marvin Gaye.
Brilynn quiets down almost immediately once the music is cued up and replaces her sobs with a mix of giggling and bouncing in Kayden's lap.
Meanwhile, Kayden can't contain her laughter at her sister's hypnotism by the sex-themed Gaye song.
After noticing Brilynn's excitement every time the Reeses commercial came on air, Kayden and her mother, 32-year-old Katherine Dees, wanted to catch her amusement on camera for the world to see.
"It just happened to catch her attention a few times, and the more it came on the TV the more she loved it,'' Dees said to TODAY. "She can be playing or even napping and she will stop everything, or wake up and stare at the TV, which leads to her shoulder shrugs and dancing."
Dees continued, "Sure enough it worked again, and I just happened to be recording it for giggles. Originally only the commercial would get her attention, but now if I play the song on my phone it works just as good to grab her attention."
Apparently, music has been incorporated into little Brilynn's life since birth. Dees said she would sing to her daughter frequently on account of an acid reflux issue that would cause the baby discomfort.
Not to mention, Dees and her fiancé Blaine Thornton frequently throw on some jams around the home to get Brilynn moving and grooving.
"Anytime we are watching 'The Voice,' or playing music in the house she starts twirling her arms around and shrugging her shoulders,'' Dees said. "We definitely think there is a future entertainer in her!"
Well, if she ever makes it onto "The Voice" season 44 (because that show will never end), you can bet this video will score her a massive fanbase.
Citations: Watch this baby stop crying and start jamming to Marvin Gaye's 'Let's Get It On' (TODAY)