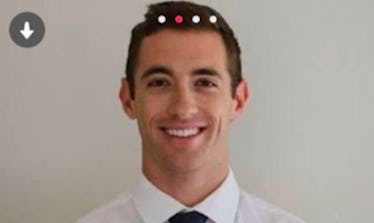 Tinder VP Bans Guy Who Went On Racist And Sexist Rant With Powerful Open Letter
Facebook
It's pretty rare to see justice get served so quickly, but Tinder is seriously on top of its game right now.
On March 1, we told you about Nick, the 24-year-old Tinder user who allegedly sent girls nasty messages on the dating app if they weren't interested in him — or even if they didn't respond quickly enough.
Nick's old college buddy, Kevin KTran, blew up his spot on Facebook and urged people to unfriend him.
According to the series of screenshots posted by Kevin, Nick had a habit of harshly insulting any girl who lost interest in him or stopped responding. He even used racial slurs in one of the exchanges.
Now, Rosette Pambakian, vice president of communications and brand at Tinder, has penned an open letter to Nick to let him know the company "swiped" him off the island.
Pambakian wrote,
Tinder has a zero-tolerance policy on disrespect. No racist rants. No sexist pigs. No trolling. No jerks who can't get over their own inadequacies long enough to have a decent conversation with another person on Tinder.
She went on to say she was personally offended by Nick's language, calling his words "an assault, not only on her, but on all of us."
In the letter, Pambakian continued,
Every day, we work to rid our ecosystem of bad actors like you. Why anyone would choose to go out into the world and spread hate I will never understand, but you do not have that choice on Tinder. Hate is not an option and we will continue to fight it wherever it rears its ugly head.
In an interesting new development to the story, another girl has come forward on Facebook to corroborate Kevin's initial post about Nick:
Katie Marino wrote in her post,
This is 100% nothing new for this dude. He's repeatedly pushed boundaries with myself and people I know, sending unsolicited nudes more than once like NAHHH man... You brought this shit upon yourself. Revel in the glory that is being exposed for the world to see.
On a more serious note, she also alleged Nick has a well-documented past of harassment, assault and emotional abuse toward women. She claims he was even convicted in one such case, though he faced no consequences other than having to go to therapy.
Katie kept most of the details vague in order to protect the anonymity of the victim.
To wrap up her letter to Nick, Pambakian reminded him that the outrage over his behavior is not at all isolated, but rather part of a larger movement.
She wrote,
Women's voices are only getting louder. So let me say this loud and clear: You and your kind are not welcome in our world. And we have the power to keep you out of it.
Citations: In Commemoration of National Pig Day... (Tinder)