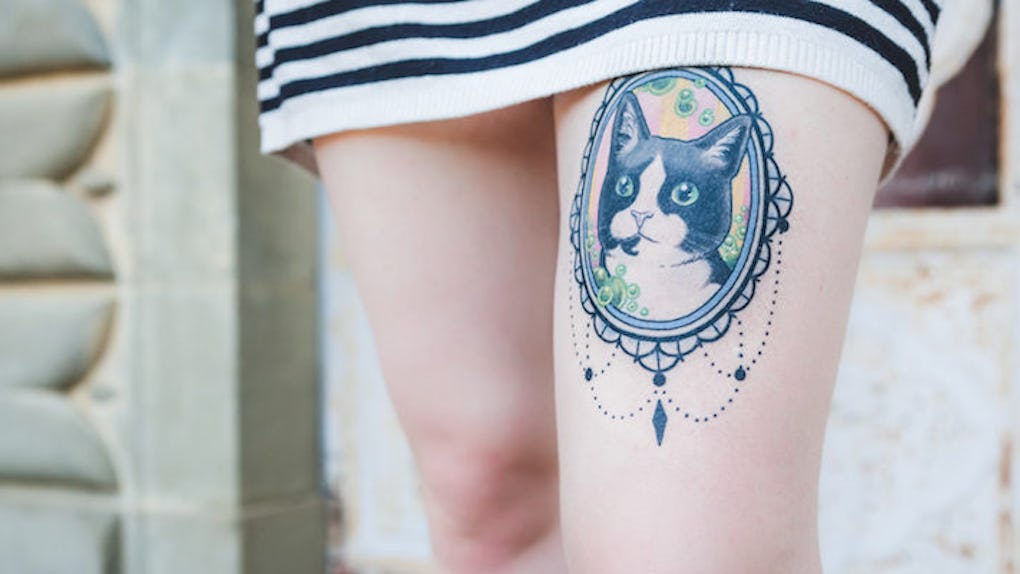 Giorgio Magini
Tattoo Tights: For Those Who Can't Commit To Real Ink
Tattoos can really take your look to the next level.
However, unlike your favorite accessories, donning inky accents does come with a few slight drawbacks.
While fashion trends may come and go, tattoos tend to be a lot less fleeting.
Unfortunately, decking your skin out in tats is more or less permanent, not to mention, pretty painful.
Therefore, it's always important to think long and hard before you make the commitment to spruce up your skin with some stylish new ink.
If you've ever wished you could rock tattoos just like you wear your favorite outfits, I have some good news for you.
It turns out that you can actually show off some epic tats without going under the needle, thanks to the latest fashion trend: tattoo tights.
That's right, tights covered in faux tattoos are now a real thing. Those looking for a little ink can get their fix by visiting sites like Stop + Stare or TrendyLegs.
These edgy nylons turn your boring legs into a temporary canvas for all sorts of epic inky designs.
The tights feature translucent fabric that has different patterns either printed or hand painted onto them, which creates the illusion that your legs are loaded up with tattoos.
Plus, these awesome tights come in a wide range of stunning designs.
So far we've seen everything from shins clad in pretty floral patterns...
...and tights with dainty thigh designs...
...to simple styles with subtle foot tattoos...
...and nylons with colorful cartoon-style ink.
Seriously, the design possibilities are pretty much endless.
So you're basically guaranteed to find a pair of tattoo tights that will make you feel like an inked-up badass.
Citations: Bored Panda