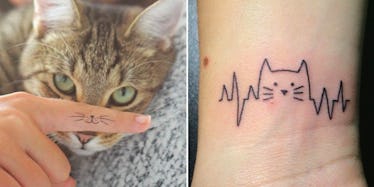 25 Tiny Tattoos That Prove Being A Cat Lady Is Finally Cool
InstagramInstagram
If you're a low-key crazy cat lady, who also happens to love body art, you might want to stop what you're doing and pay attention.
There's a new ink trend sweeping over the tattoo scene that's purr-fect for all feline fanatics out there.
Allow me to introduce you to "cattoos."
That's right. Cat tattoos are having a serious moment right meow, and thanks to the rise of this feline-ink fad, we've been seeing a lot of celebrities with kitty-inspired ink lately.
If you're looking for some cat-tat inspo, don't worry because we have you covered.
From adorable cat whiskers and precious paw prints to pussycat portraits and tiny-line cattoos, there are endless amounts of ways you can get in on this cattoo craze.
Check out the pictures below to see some of these awesome tattoos:
Cat tattoos are all the rage right meow...
And lots of cat-loving celebs are getting in on this trend...
...by flexing all sorts of feline-inspired ink.
You can get a copycat version of Kendall Jenner's lip tattoo...
Spruce up your skin with an inky reminder that cats are life...
Opt for a frisky finger tattoo...
That pays tribute to your favorite feline...
Add a subtle splash of cat ink to your skin...
...or deck your arm out in an epic, double-exposure design.
You can't go wrong with some whiskers on your wrist...
A whimsical, watercolor kitten...
A paw print inspired by your precious pet...
An itty-bitty kitty on the back of your neck...
A gorgeous geometric cat tat...
...or the purr-fect portrait of your pal.
You can embrace your inner crazy cat lady...
By carrying a little kitty on your collarbone...
Drawing a delicate feline on your foot...
...or tucking a tiny tabby behind your ear.
You can wear your furry BFF on your sleeve...
Etch an abstract pussycat above your elbow...
Spruce up your skin with a semi-colon cattoo...
Add some cat ink to your ankle...
...or go with some body art that you'll love 'til the end of your nine lives.
Seriously, I need one of these cat tats, like, right meow.