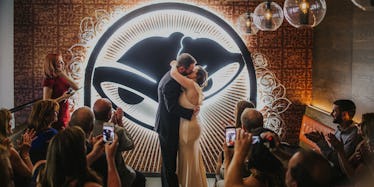 Taco Bell's First Wedding Proves These Newlyweds Know How To Live Mas — PHOTOS
Taco Bell
If selecting a wedding venue has become too exhausting, you might as well just say your vows at Taco Bell.
Newlyweds Bianca Monda and Dan Ryckert chose the taco-rrific location to get married on June 25, and now, the option is on the table for you and your sweetie as well.
You are clearly out of touch with your romantic side if you thought the fast food chain was restricted to dinners of Fiery Doritios Locos Tacos and XXL Grilled Stuft Burritos.
Just look at these photos. This, my friends, is true love.
Take it all in.
Starting on Aug. 7, you too can be wed amongst hot sauce and guac at the flagship store in Las Vegas. This is the perfect place to say "I do," and it's exactly what Sin City needs.
Ordering a Taco Bell wedding is as easy as ordering lunch. The $600 celebration will include a chapel ceremony, a private reception — but the guest list has to be kept to 15 — a sauce packet bouquet (to die for), and of course, your favorite dishes, like a Taco 12 Pack and Cinnabon Delights cake.
Take a look at the treats Bianca and Dan had at their big day. We know it's going to get you amped for Taco Tuesday.
Seriously — look at this hot sauce bouquet holding a diamond ring. It's precious.
Dan and Bianca were winners of the February contest that resulted in the guac-tastic wedding of their dreams. Those romantic dinners at the restaurant's test kitchen would make any couple swoon.
So after catching a glimpse of these newlyweds' vows, you might want to get the ball rolling with your own relationship. Might we suggest you pop the question with this ring?
Stick with me, kids. I'm the taco expert who doubles as a wedding planner. No need to thank me!