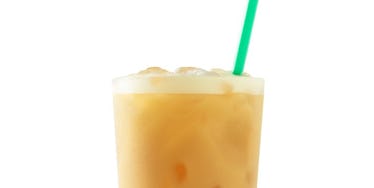 Starbucks Released A New Piña Colada Tea Infusion And It Sounds Tropical AF
Starbucks
Don't let those back-to-school ads fool you: Summer is still in full swing, and everyone's favorite coffee company is here to prove it.
Beginning on Monday, July 24, customers have the option to channel a poolside vibe and pick up the latest permanent menu item from Starbucks: Piña Colada Tea Infusion. 
What summer is complete without at least one piña colada? All you need now is a few palm trees and a pair of sunglasses because things are about to get tropical. The drinks — which are 60 calories, according to a Starbucks press release — start at $3.25.
The latest creamy and refreshing offering will be a mix of Teavana black tea, pineapple fruit and botanical blend, and coconut milk. Again, paradise in a cup is achieved. Kudos for nailing the perfect seasonal drink, Starbucks.
This new item comes on the heels of exciting tea news. A few weeks ago, Starbucks introduced us to three new permanent tea flavors: Teavana Shaken Iced Pineapple Black Tea Infusion, Teavana Shaken Iced Strawberry Green Tea Infusion, and Teavana Shaken Iced Peach Citrus Tea Infusion.
Of course, this new option only makes a Starbucks run that much sweeter. If you're one to enjoy a piña colada but really have your heart set on the Teavana Shaken Iced Strawberry Green Tea Infusion, there's good news. There are ways to customize your tea to your liking, which means there's something for everyone.
Starbucks baristas suggest either asking for drinks to be unsweetened or substituting tea for lemonade, another summer go-to. If you're really looking to get creative, there's also the option to mix the tea blends.
"Strawberry white tea, Peach citrus black tea, Pineapple green tea, strawberry Passion Tango tea, the possibilities are endless," Starbucks said in a statement.
Technically, those four tea options really amount to much more, if you're feeling inventive.
Grab the bikini, get some sunblock, and hit up your nearest Starbucks. Summer is still cookin.'