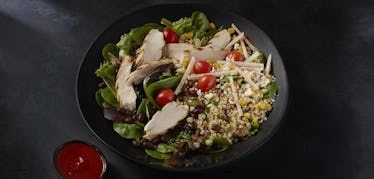 Starbucks' New Menu Options For Breakfast And Lunch Will Make Your Mouth Water
When going for a Starbucks run, I typically go for a tasty drink and — if I'm in a good mood — I'll grab a cookie or a muffin.
Starbucks has some solid snacks choices, but anyone who visits the coffee giant frequently knows, it isn't really the place you go for a filling meal.
But that changes now!
Starting July 11, Starbucks will roll out five new breakfast and lunch menu items that are sure to make your mouth water.
If you're ready to kick your summer eats up a notch, then you're going to love the items below.
Breakfast
If you're looking for a satisfying breakfast, that travels well, then you're going to love Starbucks new Seared Steak, Egg, and Tomatillo Wrap.
This wrap is made with seared steak, cage-free eggs, caramelized onions, and tomatillo salsa, wrapped in a warm tortilla.
If you need more convincing to try the seared steak, egg, and tomatillo wrap, it's an excellent source of protein, for those looking to shred up this summer, at 21-grams of protein for each wrap.
Pick it up at your local Starbucks for $4.95.
Lunch
For lunch, Starbucks is offering customers two delicious protein bowls.
There's the Chicken and Quinoa Protein Bowl which is made with white meat chicken, lettuce, quinoa, tomatoes, roasted corn, black beans, jicama, and cotija.
If you're looking for a vegan option, you can try the Vegan Lentils and Vegetables Protein Bowl. It's made with butternut squash, roasted tomatoes, sunflower seeds, and brown rice.
Both bowls will be available year-round, for $7.45 - $8.45,  in most Starbucks locations.
Dessert
If you need something sweet to balance out your palate after lunch, look no further than Starbucks new Vanilla and Rasberry Whoopie Pies. Available at Starbucks restaurants for $2.25 – 2.75.
OK, Starbucks, you guys are killing the game this summer.
First the line of Cascara cold brews, then a line of new shaken iced teas, now delicious food? We're impressed!