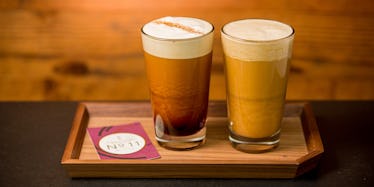 Starbucks' New Nitro Cold Brews Are Perfect Drinks For Your Busy Summer Mornings
Starbucks
During the summer months, I often look for chilled or iced caffeinated beverages that keep me awake, refreshed, and in a good mood.
Thanks to Starbucks, we now have two new cool summer drinks that are perfect for busy mornings.
Starting July 11, participating Starbucks locations in the United States and Canada with a Starbucks Reserve coffee bar will begin offering customers Starbucks Nitro Cascara Cloud and Nitro Dirty Chai.
The idea of the Nitro Cold Brew first came about in Starbucks' Seattle Roastery, where the coffee giant usually experiments with different drinks. Then, they decided to bless the rest of the world with all of that delicious, caffeinated, goodness.
So... what are these two summer drinks made of anyway?
Starbucks Nitro Cascara Cloud
The Starbucks Nitro Cascara Cloud is made using coffee from the dried fruit found on the coffee cherry, nitrogen-infused Starbucks reserve cold brew, vanilla bean syrup. Then, it's topped with cold foam made of milk and cascara syrup.
Starbucks Nitro Dirty Chai
The Starbucks Nitro Dirty Chai is made from a flavor combo I would've never considered pairing. "Dirty Chai" is a term used to describe a drink that is made using a mixture of chai tea and coffee.
The Starbucks version of this drink is made with a layer of cream and dirty chai at the bottom of a glass, topped with a layer of Starbucks Reserve Nitro Cold Brew, making for a creamy yet refreshing summer drink.
Melrose
If you find yourself at a Starbucks reserve bar hankering for a different beverage, you can also order a Melrose. It's made from Nitro cold brew, shaken with cherry bitters and topped with a maraschino cherry.
Or, if you're feeling a dessert drink, try the Cold Brew Float made using Starbucks Reserve Cold Brew poured over a scoop of Seattle-made Mora ice cream.
Dang Starbucks, keep doing your thing!