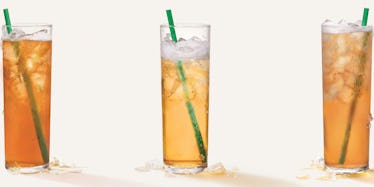 Starbucks' Refreshing New Iced Tea Flavors Will Cool You Down In The Summer Heat
Starbucks
We're officially in the midst of summer, and it's a little too hot to pick up a steamy cup of coffee during our mid-July commutes to work.
I don't know about you, but I'd much rather sip on an iced beverage that'll wake me up in the morning and cool me down in the heat, and Starbucks' new Teavana Shaken Iced Tea Infusions are making that extremely possible.
Starbucks unveiled three new iced tea flavors on Tuesday, July 11, and each one of them sounds sweet and delicious. (TBH, they're kind of stealing coffee's spotlight, but we're here for it.)
Behold Starbucks' new tropical-flavored Shaken Iced Tea Infusions:
The flavors are Teavana Shaken Iced Pineapple Black Tea Infusion, Teavana Shaken Iced Strawberry Green Tea, and Teavana Shaken Iced Peach Citrus White Tea.
Don't they refreshing?! They're honestly the perfect beverages for your warm summer mornings, and I can't wait to give them a try (I'm a little biased because I love iced tea).
Like I said before, the new drinks come in Iced Pineapple Black Tea, Iced Strawberry Green Tea, and Iced Peach Citrus White Tea. You'll probably feel like you're lounging on a tropical island while sipping on one of these babes.
These aren't just regular iced teas, either. Starbucks' Teavana Shaken Iced Tea Infusions are made with freshly steeped fruit and botanical blends, combined with our beloved Starbucks Teavana iced tea. The teas are sweetened naturally with liquid cane sugar and include no artificial flavors or sweeteners, according to Starbucks' press release.
Megan Droz, a Starbucks product developer, commented on the new infusions and said, "Freshly steeped botanicals have subtle flavors that don't overpower the pure and simple notes of tea, which then have a chance to shine through."
I don't know about you, but I'm dying to give one of these a try (Pineapple Black Tea is calling my name).
I know you're already super excited, but I'm about to make your morning even better with an update: These drinks will be available on Starbucks' permanent menu at participating stores in the U.S. and Canada.
You can also score a free Teavana Shaken Iced Tea Infusion on Friday, July 14, in honor of Free Tea Day between 1 and 2 p.m. local time.
Starbucks, we love you.