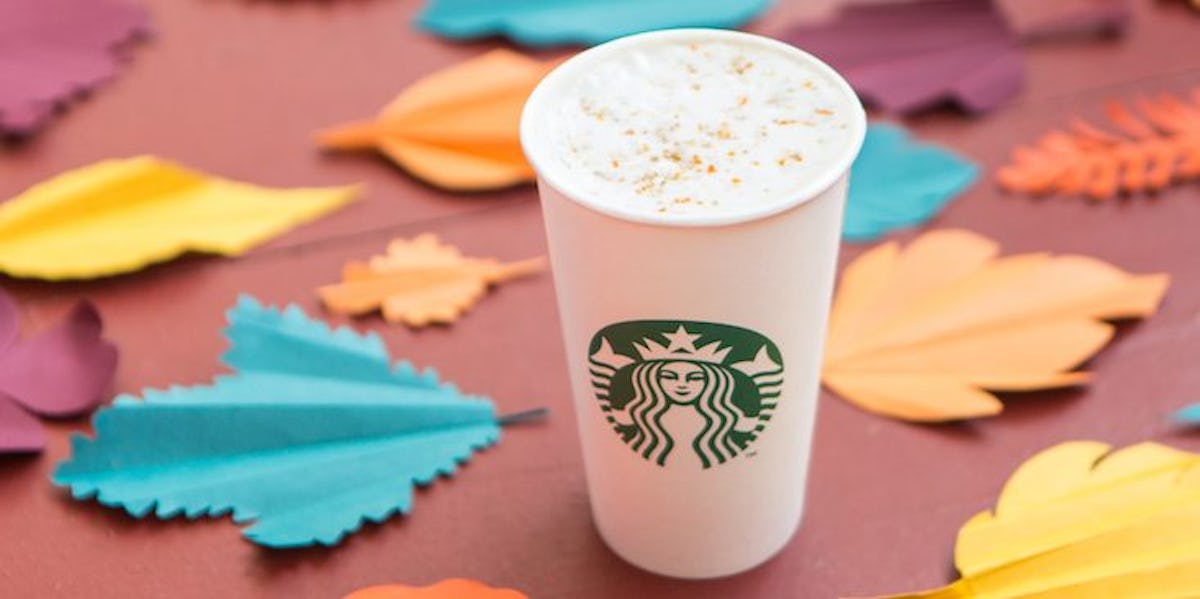 Here's How Much Starbucks' Maple Pecan Latte Costs So You Can Budget Accordingly
Starbucks
If you haven't heard the big news, brace yourself, because Starbucks is debuting yet another fall time drink that promises to have just as much fandom as the Pumpkin Spice Latte. The new drink I'm talking about is the Maple Pecan Latte, and it is exactly what you want to sip during those very hectic fall mornings. With notes of maple syrup, pecan, and brown butter mixed with espresso and steamed milk, and topped with a special autumn sugar topping, you will forget all about your annoying morning commute. But this drink won't come too cheap; Starbucks' maple pecan latte costs anywhere between $4.25 and $4.45 for a tall, depending on your location, so make sure you budget accordingly.
The Maple Pecan Latte will be available starting Friday, Sept. 22, while supplies last, so if you want to try this drink, waste no time as it won't be available for very long. A spokesperson for Starbucks tells Elite Daily that the Maple Pecan Latte was inspired by the changing leaves of the fall season and the classic flavors typically used during this time of year. But this isn't the first time the 'Bucks gave maple a try.
In 2007, Starbucks offered a Maple Macchiato as a part of its national menu. And in 2014, the coffee giant also tested the Golden Maple Latte in select stores in Cleveland and Orlando. I think I speak for maple lovers everywhere when I say I'm glad the coffee chain has brought maple back again.
The Maple Pecan Latte isn't the only new item Starbucks is offering. Because of the success of its springtime cups, Starbucks decided to bring them back. But this time, the cups got a fall time makeover. You can expect to enjoy your MPL in a jewel-toned cup that is perfect for the season. The most exciting part of these cups, aside from what is inside them, is the fact that some of the cups have cute drawings already on them, such as drawings of pies, owls, and pumpkins. Other cups come blank and allow customers to express your artistic side while getting caffeinated.
A spokesperson for Starbucks tells Elite Daily "We love seeing our customer's creativity in social channels and can't wait to share these fun and vibrant colors for Fall," so don't forget to do it for them 'Gram. See the cute cups below.
Pretty, right? Like the Maple Pecan Latte, these fall time cups will be available starting Friday, Sept. 22, while supplies last. So if you happen to be looking for a cute cup to doodle on, now is your chance — take advantage of it while you can. And if you are worried the MPL is here to overshadow the PSL, do not worry, because the Pumpkin Spice Latte is still around and will probably be served in one of those cute cups.
If you still need a little convincing on why it is worth spending five bucks each morning on the Maple Pecan Latte, here is what Debbie Antonio, from Starbucks Beverage Research and Development team, had to say about the MPL,
The flavors of maple and pecan perfectly balance the inherent sweet and nutty flavors of espresso. The result is a smooth and well-rounded handcrafted beverage that customers can personalize to truly make theirs.
OK, so I'm totally sold on the Maple Pecan Latte and I can't wait until Sept. 22 to finally try it. I have a feeling the MPL is going to become the new #basic drink and I'm not mad at it.
Check out the entire Gen Why series and other videos on Facebook and the Bustle app across Apple TV, Roku, and Amazon Fire TV.