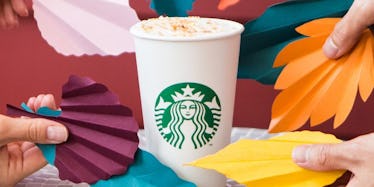 Starbucks' Maple Pecan Latte Won't Be Here Forever, So Get One While You Can
Starbucks
With all the hype surrounding Starbucks' Pumpkin Spice Latte, many have forgotten that the coffee giant creates a series of seasonal drinks. With that being said, it's time for the PSL to take a seat because it has some serious competition this fall. The 'Bucks just announced the delicious and very new Maple Pecan Latte. The Maple Pecan Latte was created to kick off the official start of fall, and if you are wondering how long Starbucks' Maple Pecan Latte will be available for, I have answers.
The Maple Pecan Latte will be available starting Friday, Sept. 22 while supplies last. So basically, RUN, don't walk to your nearest Starbucks and pick up the MPL while you can, because they won't be available for too long. If you need some convincing on this new autumnal drink, here is what you can expect while taking a sip.
A spokesperson for Starbucks tells Elite Daily that the drink is inspired by the changing leaves in fall and classic flavors commonly used during this time of year. You can expect notes of maple syrup, pecan, and brown butter mixed with espresso and steamed milk. Whoa, sounds like fall in a cup!
Though the concept of a maple-themed drink sounds like a new idea for Starbucks, this isn't the first time they've tried it. Back in 2014, Starbucks tested the Golden Maple Latte in select stores in Cleveland and Orlando -- and in 2007, they offered a Maple Macchiato as a national menu item.
One of our very own editors here at Elite Daily, Amanda Fama, had the opportunity to try the drink before it drops this Friday, and here is what she had to say about it:
Starbucks' Maple Pecan Latte tastes like autumn in a cup. It has just the right amount of sweet maple and nutty pecans flavors, and reminds me of pancakes with maple syrup on top. The sugary sprinkles on the drink's foam provide a sweet taste at the end of your sip.
OK, if that didn't convince you to try the Maple Pecan Latte, then maybe this might. Aside from debuting an entirely new fall drink, Starbucks is also releasing fall cups that have jewel-toned hues which complement this season perfectly. They decided to create fall-time cups after the specialty cups released in the spring received such a positive reaction from customers. See the cups below.
OK, these cups are really freaking cute. Some of them even come with pre-drawn doodles of pies, owls, and pumpkins. Like the Maple Pecan Latte, they will be available starting Friday, Sept. 22 while supplies last. So if you want to take advantage of a really good Instagram picture opportunity, head over to Starbucks this Friday -- because they might run out quickly.
If you consider yourself a Pumpkin Spice Latte purist, don't fret, because the PSL is still around. Starting this Friday, it will also be served in one of those cute fall-inspired cups, so now you have more of a reason to visit Starbucks.
While we wait for Sept. 22 to roll around, you can start planning Starbucks-inspired costumes to dress up as for Halloween 2017. If you're obsessed with the 'Bucks, you might want to consider dressing up as a classic (or basic) frappuccino, a Unicorn Frappuccino, or you can go to any Halloween party dressed up as the infamous Pumpkin Spice Latte.
IDK about you guys, but I'll definitely be waiting outside of my local Starbucks until the Maple Pecan Latte debuts this Friday.
Check out the entire Gen Why series and other videos on Facebook and the Bustle app across Apple TV, Roku, and Amazon Fire TV.