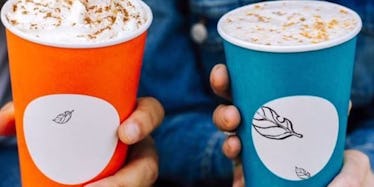 Starbucks' Fall Cups Won't Be Available Forever, So Sip From Them While You Can
Starbucks
Nothing better signals the change in season from summer to fall than finally enjoying a seasonal coffee creation from Starbucks. One sip of a Pumpkin Spice Latte can immediately warm you up as the chill of autumn sets in. This year, though, you can up the festive factor as you savor your favorite coffee from Starbucks' new fall cups. Just a couple questions left to answer: When can you get them, and how long will Starbucks' fall cups be available this season?
Before you jet off to your local Starbucks to get all the cups, you can relax for a moment, because according to Starbucks, the fall cups don't drop until Friday, Sept. 22. Don't get too comfortable, though, because I am totally on board for setting your alarm for the crack of dawn (that's why double espressos exist, right?) so you can be first in line at you local Starbucks -- what better way to celebrate the first day of fall? You'll definitely want to be there as soon as your local store opens its doors because Starbucks will only be serving up your morning jolt in these fall-inspired cups as long as supplies last, and these cups are seriously so cute that they're likely to go pretty fast.
Let me try backing up that claim by telling you a little bit more about how these cups will give you that fall feeling (and give your coworkers major cup envy) -- complete with a perfectly seasonal pumpkin drawing. For starters, they come in these gorgeous jewel tones that might even give you some fall outfit inspiration. Before you know it, you'll be stocking your closet with plum, teal, and orange to perfectly complement your PSL's festive to-go cup.
Beyond the beautiful colors, the cups also come adorned with a white circle on the middle (where the siren would usually go). Some cups will come with that space filled in with one of three perfect-for-autumn, hand-drawn designs: a pumpkin, an owl, or a pie. But the other really cool part is that some of them are blank and just waiting to be completed with the help of your creativity. So, if you've been practicing your best fall leaves or black cat doodles during the dullest of Monday morning work meetings, now is your time to shine.
In a statement emailed to Elite Daily, a Starbucks spokesperson says the brand loves to see its customers' creativity, and that is why it's leaving some of the cups blank. So if you get a cup that's waiting to be topped off with your best design, make sure you snap a pic and tag Starbucks so you can show off how you made your fall cup extra special -- and then wait for that coveted Starbucks "like."
You might remember that Starbucks debuted the spring seasonal cup earlier this year, which was similar to the fall cup that will be available on Friday, but they were dressed in more pastel colors. A Starbucks spokesperson explains to Elite Daily in an emailed statement that customers loved those spring cups so much that the company decided it was a good decision to design some for fall as well.
So, if you were wondering how you were going to shake things up this season while still ordering your beloved PSL, then these cups are the perfect solution. If you're looking to be even a bit more adventurous, you can try ordering Starbucks' newest fall creation, the Maple Pecan Latte. That's right, you can buck all fall expectations and start flooding your Instagram with an MPL in a fall cup -- who's basic now?