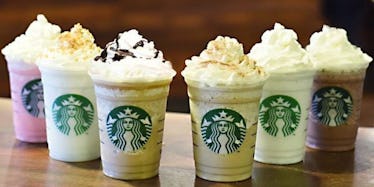 Starbucks Has So Many Cooler Frappuccinos In Asia And We Need To Talk About It
Starbucks
Now that we've learned coffee boots our exercise performance, it is of the utmost importance that we take daily trips to Starbucks (well, at least before we hit the gym, right?).
Speaking of Starbucks runs, you might want to book an international flight to Asia to get a taste at some of their super-sweet frappuccinos that are making us green with envy here in America.
As of today, the coffee giant is unveiling three frapps in Asia because of demands for new flavors and chewy textures, according to a new marketing report.
(Looks like we're going to have to start getting more demanding in the U.S., folks.)
So if you're thinking about taking a 20-plus hour plane ride to satisfy your Starbucks cravings, here's what you're in for: An Irish Cream Coffee Pudding Frappuccino, a Matcha Earl Grey Jelly Frappuccino, and a Banana Split Frappuccino Blended Beverage.
Michele Waits, vice president of marketing & category of Starbucks Asia Pacific is really hitting us where it hurts and says, "We experimented with different combinations of flavors to create new sensory experiences."
I'm not jealous, you're jealous.
While it's certainly difficult to think such tasty treats are so out of our grasp, we Starbucks lovers at Elite Daily wouldn't fail you. We'll give you the lowdown on how to get the drinks here. No need to thank us, it's all in a day's work.
Let's start with the Irish Cream Coffee Pudding Frappuccino.
Since you already tend to complicate your order (no judgment here), ask your baristas for a mix of coffee pudding base (that's infused with Irish cream flavor), espresso whipped, cream and ground espresso powder.
Sounds like a dream!
Next we have the Matcha Earl Grey Jelly Frappuccino.
This earl grey goodness is a mix of green tea, an earl grey jelly layer, whipped cream, and matcha powder.
Heavenly!
And lastly there's the Banana Split Frappuccino Blended Beverage.
Good news, there's a Banana Split Frapp on the secret menu (hallelujah) but to enjoy this version ingredient for ingredient, ask your barista to blend a strawberry, whipped cream, and banana and mocha, and top it off with vanilla whipped cream to finish.
What did we tell you coffee crazed readers? We wouldn't leave you behind. See you in line!
Citations: Starbucks introduces three new frappuccino drinks in Asia (Marketing-Interactive)