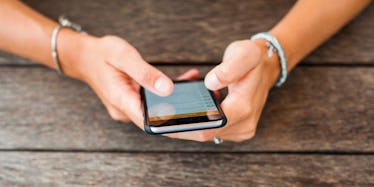 Apple May Have Accidentally Leaked A New App And It Looks Super Useful
Fotolia / armada 1985
Techies, we have some potentially good news if you're super organized.
Apple could be completely changing the game in the file management department if developer Steven Troughton-Smith's findings are true. On Sunday night, while in the "Utilities" section of the App Store, Troughton-Smith stumbled upon a placeholder listing for an app called "Files," which has yet to be announced by the company.
Whoops!
Though Files has since been deleted and details about the app weren't available, the familiar blue folder icon was at the top of the screen — a welcome sign of organization. The neat freak in me is basking in the glory of technical possibilities.
According to Apple Insider, this could be an indication that iOS 11 will give users easier access to managing files. If you're like me, you appreciate a folder inside of a folder inside of a folder inside of a folder. Anything to make files more orderly is right up my alley.
Apple Insider further speculates that this potentially means Apple is releasing an app that allows users to directly access iOS system and app files. According to the site, "The Files app listing is likely an App Store placeholder for an upcoming system app Apple intends to include in iOS 11."
This news — along with Troughton-Smith's discovery of an Activities app — comes on the heels of Apple's annual Worldwide Developers Conference. At this year's weeklong event, Apple is expected to announce iOS 11, macOS 10.13, Siri Speaker, and a new iPad Pro, among other items, according to 9to5 Mac.
Now, the only thing I know about the iPad Pro is the fact that it might exist, but I can already tell it's something I'm going to need to put on my radar. You might want to start thinking about your Christmas list, because if they're available in time, those babies are definitely going to go fast.
To stay up-to-date on the latest tech info, follow #WWDC2017.
So thank you to the Apple employee who probably made a coding mistake and leaked the Files possibility. As a result, I'm sitting here dreaming of the ways I can organize.
Enjoy, techies.
Citations: WWDC 2017 Hub/Live Blog: Apple expected to announce iOS 11, macOS 10.13, Siri Speaker, new iPad Pro and more (Apple Insider)