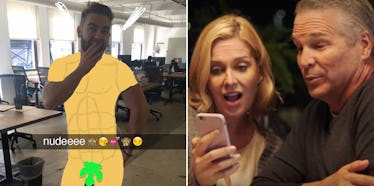 We Figured Out How To Use Snapchat's Update To Send The Most Flawless Sexts
Robert Rodriguez/YouTube
Woah, woah, woah. We need to talk about Snapchat's new Memories update.
It's due to roll out this month and basically lets you save Snaps and Stories into a personal folder so you can keep them forever.
Snapchat's update also lets you mash up and combine Stories along with a whole load of other awesome stuff.
But nestled in Memories is a naughty, little feature that will change the way we sext FOREVER. I'm not even exaggerating.
It's called "My Eyes Only," and it gives you the ability to hide raunchy pictures and videos from your Stories.
Put simply, it eliminates the panic we have when we let a family member scroll through our photo reels ("Don't go too far up, Mom!!!").
All of these sexy Snaps are backed up. It means you can perfect your naked Snap and archive it -- effectively creating a porno folder filled with the most flawless X-rated stuff to send at any time. You know, if you're into that sort of thing.
The My Eyes Only feature is explained in the cringeworthy video above, which features stars Alexis Ren and Sian Chapman, who famously found love on Instagram. The fact that they're both ridiculously good-looking probably helps their careers.
Here's how it works:
So, you pass your phone to your parents, for instance. Your Story is opened on the screen.
They're happily scrolling through when BAM -- a naughty video you completely forgot about appears.
Yeah, Mom and Dad didn't need to see that.
So, you snatch your phone back and file this raunchy, little thing away in My Eyes Only.
Then, you laugh that totally awkward situation off.
Added bonus: No more rushed, awkward, last-minute sexts of your bloated pizza belly when your SO asks for a naked pic unexpectedly, since you can now keep your flawlessly curated nude on hand for any occasion in this new, secret archive.
Here's mine: