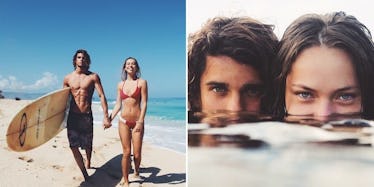 Couple Travels The World And Proves Love Doesn't Have To Slow You Down (Photos)
It's no secret your soulmate makes the ultimate travel companion.
If there's one couple that knows this, it's Jay Alvarrez and his 18-year-old girlfriend, Alexis Ren.
We first introduced you to this dynamic duo with their incredible GoPro video that captured the couple living the California dream.
If you thought that looked amazing, you'll be glad to know their adventures aren't confined to the state of California.
In fact, these sun-kissed love birds have explored all sorts of exotic destinations across the globe and managed to capture some incredible Instagram photos of their epic journey along the way.
Whether Jay and Alexis are hitting up the beaches of Hawaii, hiking through the mountains or hovering through the skies in a helicopter, it's pretty obvious being in a relationship hasn't slowed these two down or tamed their desire to travel the world together.
Meet Jay and his girlfriend, Alexis.
When this Cali couple isn't soaking up the sun at home...
...they're going on grand adventures...
...as they travel all over the world together.
These two prove love has no boundaries...
...and being in a relationship doesn't mean you have to tame your adventurous spirit.
Whether these two are hovering over beautiful cities...
...jumping out of planes...
...catching a few waves...
...or simply rolling around in the sand with man's best friend...
...it's not hard to see the experiences they share during their travels...
...only bring them closer together.
It's never long before these two head to the airport and gear up for their next exotic endeavor.
Sometimes you'll find them exploring sandy shorelines...
...and snapping a few selfies in the sea...
...or climbing a few oceanside cliffs.
Other times they'll hit up the hiking trail...
...or just spend some downtime together.
All of their adventures look absolutely amazing...
...and prove the best travel companion is your soulmate.
Check out the video below to see Jay and Alexis living the California dream.