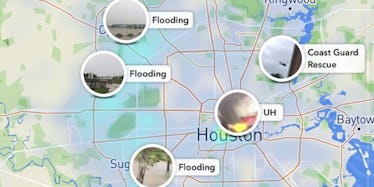 Snapchat Is Tracking Flooding Damage In The Wake Of Hurricane Harvey, Here's How
Amanda Fama/ Snapchat
Social media has become one of the predominant ways to stay informed, so it comes as no surprise that various platforms are trying to keep its users abreast of emergency situations. Snapchat is one example of our digital generation using its features as a way to respond to the horrific devastation in Houston. Those in search of an alternative to TV broadcasts and articles can learn how to see Hurricane Harvey Damage on Snapchat.
By accessing Snap Map — the app's real-time feature — those in Texas (and beyond) can see how Hurricane Harvey has affected particular areas in terms of flooding and damage. Not only does this allow users to keep track of what's going on in their neighborhood, but it's a way for them to stay up-to-date with family, friends, and their property. A Reddit thread has been created in response to Snap Map's updates, and it appears people are finding the resource to be invaluable during this difficult time, especially when it comes to recording flooded areas and rescues.
"Snapmap is my lifeline right now. I have close friends in Houston and have been monitoring this for days with a heavy heart from Austin," one user explains on Reddit. "Thankfully, one just got rescued by coast guard boat! Hunker down, fellow Texans."
But this isn't the only way the social media tool is keeping track of the tropical storm. One of the app's curated Stories provides a link to where people can send donations during this time. Residents in the area have also submitted roughly 300,000 Snaps since the storm began, giving people in other states a look at what they can't see.
The president is expected to head to Texas in the wake of the tropical storm and people are looking for ways to donate to those who have been affected. Stay strong, Texas. Our thoughts are with you during this tragic time.