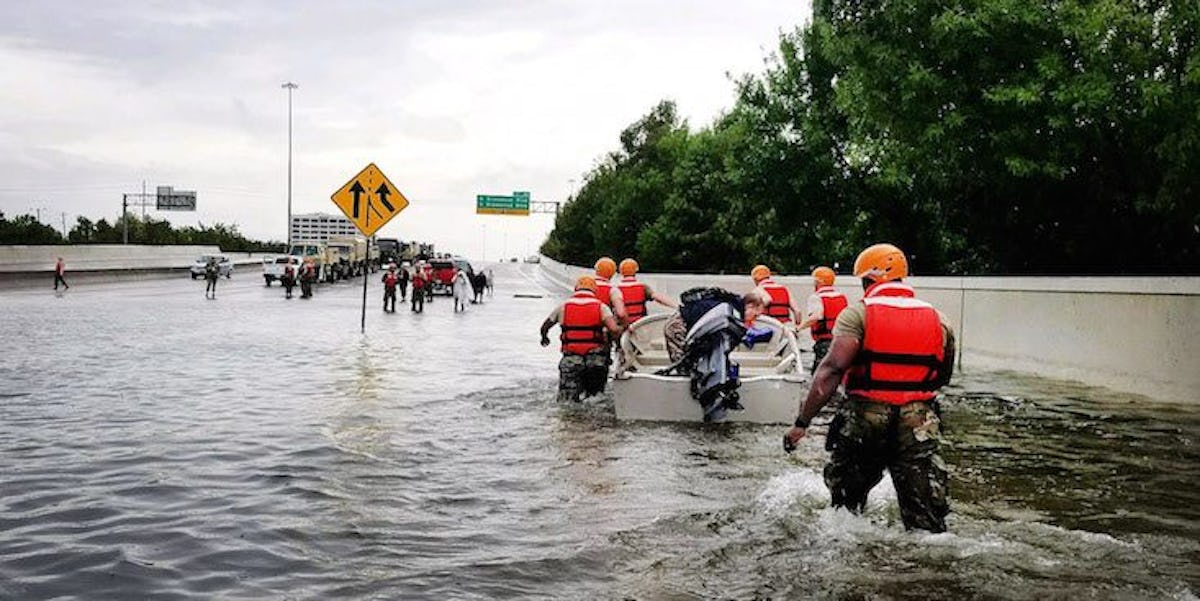 This Is Where You Can Donate To Help After Hurricane Harvey
Lt. Zachary West/Army National Guard via Getty Images
Hurricane Harvey is continuing to cause damage around Houston, Texas, after initially making landfall on Friday, Aug. 25. Flooding is ongoing as of Monday, Aug. 28, and rescue efforts are still in progress to help people who have been caught in the storm. With all of this going on, people around the country are looking for ways to donate to Hurricane Harvey relief efforts. There are already plenty of organizations helping out -- and your donations can help them do their important work.
Houston's 6.6 million people have faced the thrust of the storm, but now they have the aftermath to deal with. Five people died in the hurricane, according to The New York Times, and 2,000 people have been rescued. The city has had 56,000 calls to 911 since Friday evening.
Houston Mayor Sylvester Turner said 5,500 people are in shelters, the Times further reports, and he expects that that number will rise. Officials say that more than 30,000 people will be forced out of their homes from the flooding, according to the Washington Post. The insured losses from the storm could be $10 to $20 billion, according to CNBC.
Suffice it to say, people need help. There are many places to which you can donate to help them out.
First and foremost, there's the Red Cross. You can donate through the link, call 1-800-RED-CROSS, or text HARVEY to 90999 to make a $10 donation.
The Salvation Army is also seeking donations. You can donate online, call 1-800-SAL-ARMY, or text STORM to 51555.
Global Giving has a relief fund set up for Hurricane Harvey, while Americares is collecting donations for aid.
Team Rubicon, an organization of veterans who volunteer to clean up after disasters, is gearing up to help and needs donations (I spent some time with them cleaning up after flooding in South Carolina -- good people doing good work). Samaritan's Purse and Heart to Heart are also providing on the ground aid.
There are also more local organizations in need of donations. You can give online donations to the Houston Food Bank, Galveston County Food Bank, and the Corpus Christi Food Bank. The Texas Diaper Bank is also taking donations.
You can try the Coalition for the Homeless and Portlight, which helps people with disabilities. The SPCA of Texas is working to help pets and animals (and there are other ways to help pets).
On the more individual level, GoFundMe collected Hurricane Harvey relief campaigns.
If you're concerned about the legitimacy of donations, Charity Navigator has a guide for Hurricane Harvey.