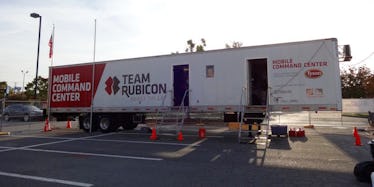 Lifelong Heroes: Meet The Vets Who Rebuild Communities After Disasters
Joe Barrow had been active in the Navy for two years, serving in Iraq and Afghanistan, when he was diagnosed with brain cancer in 2005.
He spent four years beating cancer and started training so he could get back to serving. When he was about to tell the Navy he was ready, he was diagnosed with brain cancer again.
Barrow had a successful operation but was put on permanent retirement from the Navy.
He had appreciated the sense of responsibility service gave him, and now it was gone:
I was trying to find something that got me back into feeling like I'm needed, wanted, appreciated and have purpose in my life -- just like the Navy did.
In June of this year, the 32-year-old saw a Facebook ad for Team Rubicon, a non-profit organization of military veterans that provides disaster relief. Barrow joined and did the required training.
Soon after, he got a call to join Operation: Liberty Hill to clean up from flooding in Ohio.
I felt like I was useful, like I had a purpose again. I felt like I'd meant something to someone or some organizations -- like I did in the Navy.
I met Barrow at Team Rubicon's Operation: Palmetto Punch in Columbia, South Carolina at the end of October.
The team was providing relief from historic flooding that struck the state and caused an estimated $1 billion in damages, as well as more than a dozen deaths. It was Barrow's third TR operation.
The organization has provided relief after flooding in Detroit, tornadoes in Oklahoma, a typhoon in the Philippines and an earthquake in Nepal, among dozens of other communities across the globe.
TR does the immediate relief work between when a disaster hits and long-term repairs begin -- following their motto, "bridge the gap."
In addition to helping communities, TR "bridges the gap" between military service and civilian life through practical, purposeful work and a focus on mental health.
TR was in South Carolina for a little under a month. A total of 123 volunteers worked a cumulative 9,336 hours to complete 51 work orders. It saved the community $257,104 in clean-ups and repairs.
The day begins and ends at the fob -- the operating base -- in the parking lot of a Home Depot in Columbia.
Home Depot, along with ToolBank, Enterprise, Tyson and others, partners with Team Rubicon to provide space, tools and other resources.
At night, a grill and fire pit provided by Home Depot was put to use to feed and entertain volunteers. Every night, the team has a briefing to talk about what they did that day and get official updates.
Dinner is served and a literal beer flag is raised as volunteers relax.
There's a palpable closeness among the group, and I was shocked to hear people had met only days before when they were acting like they had known each other for years.
Jim Bordell, TR's planning manager who served in the Coast Guard for 30 years, explained:
I think that social comradeship most of us had while we were in active duty in the service or reserves or whatever, it's a unique thing in the culture of the military... ...I heard so many people say when they first came into the operation, instantly they knew what it was; they connected right away. 'I've got something that I missed for so long and it's helping me.' -- I've heard it over and over in every op. The same kind of story. And that's valuable in itself right there.
Volunteers stay in touch after operations, and it's a strong support system. They regularly refer to Team Rubicon as a family.
After dinner in South Carolina, team members slept in the State Guard housing on cots.
Ken Ivory, a 30-year-old who served in the Army for five years and the Peace Corps for two after, said:
[TR's] structure mimics a lot from the military: the way that they put out the plans, put out the organization. So it's easy to fall back into those old habits. It's not as easy getting up at 6 am -- or sleeping on a cot. It's been a while since I had to do both of those.
He laughed and added:
It's fun, it's good. It's good to be productive. It's a good group of people, and what we're doing actually has meaning, so I can't complain.
Jokes abounded about who snored, but apparently one volunteer, who normally has trouble sleeping from PTSD, had been sleeping well while on the operation.
The organization is highly cognizant of mental health issues that affect vets -- it was frequently quoted that 22 veterans commit suicide every day. (Though that exact stat requires context, there is a high incidence of suicide among veterans.)
There are several ways the organization tackles mental health. Some TR volunteers and leaders participate in Applied Suicide Interventions Skills Training (ASIST) to care for teammates and other vets.
As opposed to during service, when stoicism tends to be the norm, volunteers are encouraged to share stories, thoughts and feelings. That's actually one of the points of the daily briefs.
The family mentality means members are looking out for each other, even outside of operations.
And overall TR is helping vets' mental health simply by providing both a purpose and a productive way to use military training.
The team wakes up early and is transported to the fob.
They pick up breakfast, coffee and a packed lunch. The group has a briefing for the day and splits into smaller teams.
Team Rubicon works with the Information Technology Disaster Resource Center (ITDRC), a non-profit that provides tools to communities hit by disasters, to coordinate projects. They have a virtual call center where people can request help.
In a big command truck, the ITDRC monitors disasters and the areas that need care.
Team Rubicon uses Palantir to organize the requests on smartphones. TR assesses requests and teams are assigned to work orders.
Priority is given to the elderly and veteran families. I joined a team at the storm-damaged house of Miss Pat and her husband, who served in the Army for 31 years before retiring at Fort Jackson.
Her husband volunteers to help other veterans get benefits and at a nearby military academy.
He helps vets, and now vets are helping him back, Pat said:
Basically he's doing the same thing, but in a different capacity… It's a good thing, a good thing to be doing.
Team Rubicon's "bridge the gap" motto also applies to bridging the gap between vets and civilians.
It's easy to feel disconnected from the military as less than one percent of the American population is active.
This alienates the military from the rest of society. It's difficult to relate a military experience to someone who hasn't been there, but TR forms bonds by putting civilians and vets together.
Vince Moffitt, TR's incident management team chief, said he heard from a vet who volunteered with TR during Hurricane Sandy about his experience sharing a lunch of MREs -- military ready-to-eat meals -- with young civilian volunteers.
The vet taught the civilians how to eat the MREs, which led to them asking about his experience in service in the Middle East.
He's like, 'It was amazing because I'm really sensitive about talking to civilians about that, but I opened up and they were genuinely interested. It was really a great experience I hadn't had since I got out.'
Volunteers join Team Rubicon for a variety of reasons.
Although a majority of volunteers are vets, you don't have to be one to join Team Rubicon. I met TR civilians and people who have done other sorts of service.
The ages range from 18 to retirees. Everyone who wants to help is given a purpose, regardless of age, service or physical ability.
Shahein Rasoli, a 30-year-old former Marine who did three tours in Iraq, searched for a disaster response organization to join and felt connected to founder Jake Wood's Marine background.
For Lisa Smith, 26, who served in the Air Force as security forces for four years, it all started because a man she had a crush on was in TR. They're now together -- and their first picture together is of them mucking out a basement on an operation.
Smith has progressed far beyond having a crush as she serves in leadership for her region and was appointed the Public Information Officer on Palmetto Punch.
Carmelo Cruz, who served in the Marines from 1993 to 1997, wanted to do something after Hurricane Sandy, but didn't want to join one of the church-based charities.
I wanted to get with something and help continue to serve. When I got back way back in '97, there was something that was missing -- a lack of fulfillment. I didn't find it until I started hanging out with Team Rubicon.
For Samantha Boucher, who is turning 21 in a few weeks, Team Rubicon is simply a way to serve. She was a cadet in the Civil Air Patrol and did search and rescue services, but wanted to be more involved.
I intended to join the Air Force, but medically I disqualified from doing so. I'm pursuing an intelligence studies degree, and I want to get an emergency management and homeland security degree after that. That's kind of the track I'm taking -- service on the civilian side, basically, as much as I can.
Boucher is still active in the Civil Air Patrol and joined TR right after she turned 18. She's been on 17 TR operations.
Tony Cunningham retired from the National Guard after 24 years in service and was put on disability after his last deployment.
He's part of the Wounded Warrior Project and was told to look Team Rubicon up at a WW event.
Cunningham was getting restless on disability.
I had to do something. I thought I was through with the military, but Team Rubicon put me right back in that field, and it feels good doing work and helping people without a weapon in your hand.
Palmetto Punch was Cunningham's first operation and particularly meaningful as he lives in South Carolina.
I tell them every chance I get: From the state of South Carolina, we appreciate everything they're doing for us. They act just like the Carolinians are their family. They go into each work order that we get, each person's home, they treat it as if it's their own home.
I followed a team led by Smith to work on a home outside of Columbia.
Three of us took out drywall in a room that had mold while another three were up on the roof covering damaged spaces with a tarp to avoid more leaks.
Smith called in TR's special operations team to see what they could do about a leaky water valve.
Joe Barrow was working with special ops that day. They joined us after working at a woman's house that had been completely flooded while she was away helping others as part of her service on the National Guard.
Her house was condemned, and almost everything inside was destroyed. Team Rubicon packed up her few remaining belongings and gave her cots to sleep on before she moved to a condo nearby.
The woman saw Mattis -- a service dog named after General James Mattis, who was there with one member of the team and had been affectionately described as the operation's mascot -- and started crying.
She explained she lost her dog in the storms.
Barrow had a TR patch in his pocket he had been given that morning for writing a reflection on the operation. He felt incredibly touched by the woman's situation and gave her the only tangible object he could -- the patch.
She immediately put it on her shirt and told him she wanted to wear it to remind herself there are people out there who are willing to help.
This idea is what drives Barrow to keep serving however he can.
That's what service is to me. Service is helping people. Helping communities across the country, across the world. Just helping people who need it.