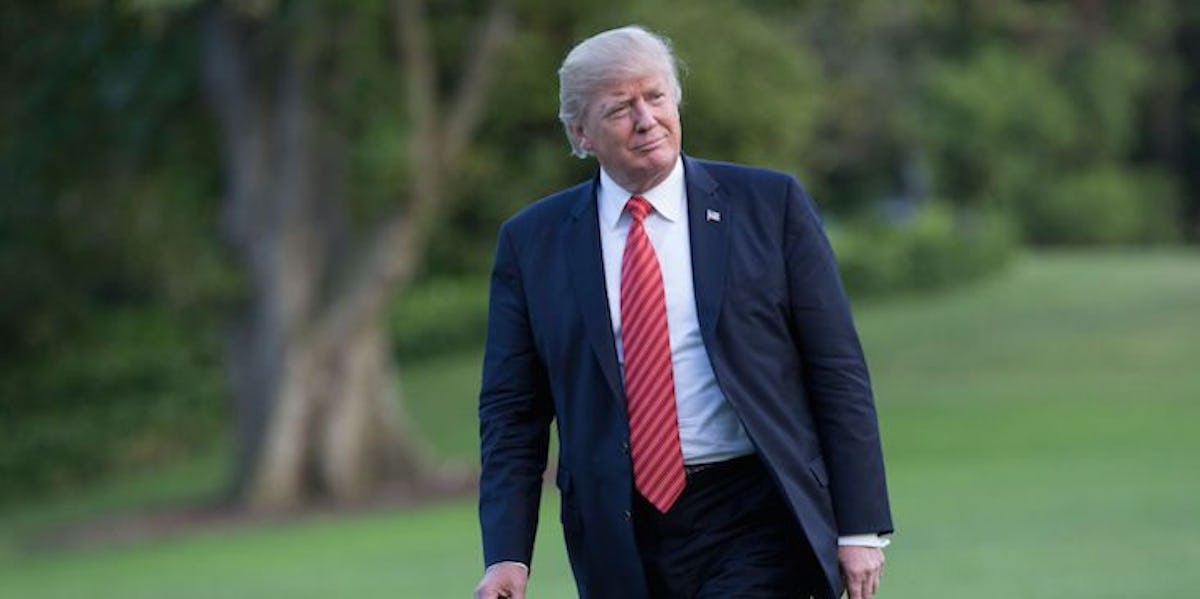 White House Confirms Trump Is Heading To Texas In The Wake Of Hurricane Harvey
Chris Kleponis-Pool/Getty Images
The White House announced on Sunday, Aug. 27, that Donald Trump will travel to Texas on Tuesday, Aug. 29 following the destruction of Tropical Storm Harvey, though press secretary Sarah Huckabee said that the president's team is still "coordinating logistics with state and local officials," according to Politico. A tweet from the National Weather Service called the storm  "catastrophic, unprecedented, and life threatening."
Trump met with Vice President Mike Pence and the rest of his Cabinet by phone on Sunday to discuss the devastation, though he has used social media throughout the several few days to address the situation. On Sunday, the president tweeted that there's been "great coordination between agencies at all levels of government" and assured there will be "great talent on the ground." The storm, which made landfall as a Category 4 hurricane but was downgraded to a tropical storm on Aug. 26, has caused major flooding throughout the Houston area and is even expected to reach a record 50 inches in some locations, Politico reported.
The flooding has already been catastrophic.
At least five people have died, according to The New York Times, and many are trapped thanks to high water levels. More than 1,000 high-water rescues have been completed since the storm hit, and officials are asking the public to contribute boats for rescue operations. A gutwrenching video showed one last-minute rescue of a truck driver, who was trapped in his cab by rising waters and only saved thanks to the lucky intervention of a local TV crew.
Though the effects have been horrific, Texas Governor Greg Abbott said he was pleased with the way the situation had been handled.
"All across the board, from the White House to the federal administration to FEMA, they've been very helpful," he told Fox & Friends, according to Politico. Despite the focus on Texas, Trump did manage to find time to address the Mexico border wall on Twitter, and people were not pleased with the president's timing. 
Social media aside, the country still must deal with the aftereffects of Hurricane Harvey.
The storm is predicted to last into the middle of next week and cause severe flooding. Officials are preparing for the worst possible scenario; Eric Blake, a specialist at the National Hurricane Center in Miami, told The Chicago Tribune, "Our focus is shifting to the extreme and potentially historic levels of flooding that we could see."
Our thoughts and prayers are with those who have been affected by this disaster.