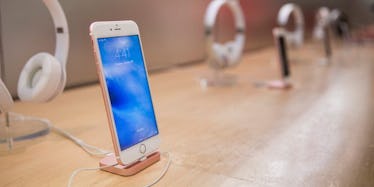 Reported Photos Of iPhone 8 Charging Pads Will Get You Excited To Go Wireless
Andrew Burton/ Staff/ Getty Images
Do you guys remember those wonderful iPhone 8 wireless charging rumors that meant you could trade in your frayed AF lightning cord in favor of a charging pad? It seemed like the tech gods were on your side, but then your hopes were immediately dashed when it was rumored that a cordless existence would not be in your future. It is not fun to be toyed with like that, especially as your battery ticks down toward that scary red percentage.
As with the run up to every new Apple release, the rumors did not end there. Now the pendulum is swinging back toward the promise of juicing up your phone sans cord. According to Mashable, new images that allegedly show off some of Apple's charging pad's internal components popped up online. It is rumored that Apple will unveil three new glass-backed phones that will offer inductive charging using the Qi standard, so your phone will only charge when touching the surface of a charging pad.
The visuals of these alleged charging pads surfaced on Weibo, a Chinese social media site. As you'll see these alleged charging pads are in the very early stages of production and they do not have that polished Apple finish yet.
Leaked images might show the iPhone 8's wireless charging setup https://t.co/hV2Gon8Vv5 pic.twitter.com/guHMlkUcM4 — Bairi Rajendar (@rajendarbairi) August 17, 2017
Wireless charging component meant for iPhone 8 / 7s Leaked in Photos https://t.co/9EW8G6Zco1pic.twitter.com/YLqhhX0GKZ — Adnan Ashraf (@adnashraf) August 17, 2017
That's not all, though. The wireless life seems like it might actually be within reach because there are also leaked images of what allegedly appears to be an internal charging coil that would go inside the phone. I wouldn't go full happy dance with it yet, but take a look and see for yourself.
This could be the circuit that brings wireless charging to iPhone 8 https://t.co/4V1Wgotjlb pic.twitter.com/ROdXYLqmLW — Cult of Mac (@cultofmac) August 17, 2017
If these images are any indication of how the new iPhones will function, then I would suggest pausing on your fifth lightning cord order this year and maybe make some room in your Amazon basket for an adorbs new iPhone 8 cover.