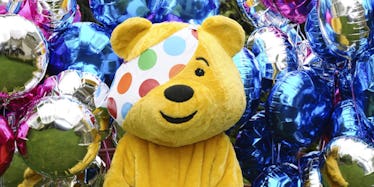 Mom Totally Oblivious To Mascot's Giant Penis Hanging Out In Pic With Her Kid
REX/Shutterstock
As a kid, there's nothing more exciting than seeing one of your favorite cartoons come to life in the form of a giant mascot costume.
When it comes to infamous characters in England, there are few creatures more loved than the adorable Pudsey Bear.
If you're not familiar with Pudsey, this big yellow bear is the mascot for the UK charity BBC Children in Need.
Feeling a bit starstruck. Just seen Pudsey Bear @BBCCiN @ParallelLondon pic.twitter.com/3B8WzmQLwS — Treloar Trust (@treloars) September 4, 2016
However, it appears that there might be some imposter Pudsey Bears out there that are raising more than just funds for underprivileged children.
Yep, people are raising questions about a particular Pudsey Bear prankster who was caught with his pants down at the Trinity shopping center in Leeds, England.
After a mother snapped a photo of her 7-year-old daughter posing with Pudsey Bear, she realized this unofficial mascot looked slightly different than the O.G. bear costume.
BBC bosses investigate after a Pudsey Bear posed with a girl, 7, 'while showing a willy' https://t.co/CUR1hC2WHu pic.twitter.com/nOQj1XojiA — James Cook (@JamesLiamCook) November 21, 2016
Yep, this particular Pudsey Bear costume had a giant dong dangling in between its fuzzy bear legs.
The mother, who wished to remain anonymous, told The Sun,
We love Children in Need and my daughter adores Pudsey. She saw him at our local shopping centre and she begged me to let her have her photo taken with him. There didn't seem to be anything wrong at the time, but I sent the picture to my sister and she replied telling me to have another look. That's when I noticed it. I was horrified.
It appears that this seemingly innocent Pudsey Bear actually has some low-key sinister intentions because Pudsey Bear was clearly trying to rock out with his cock out in front of a bunch of people at the mall. SMDH.
The furious mother searched the shopping center for the penis-baring Pudsey imposter but was unable to find the cocky character.
She expressed her obvious concerns over the inappropriate mascot to The Sun, saying,
It could be they were genuinely raising money for Children in Need, but who is to say this wasn't a paedophile using the charity suit to get near kids?
The woman also contacted BBC to let them know about the Pudsey Bear mascot with a giant penis roaming around Leeds.
BBC responded to the Pudsey Bear penis incident, stating,
The Pudsey mascot suits are issued with guidelines on how they should be worn and used to make sure Pudsey's appearances are appropriate. The suits are not designed to look as this one does. We are sorry for any offence and distress this has caused. We are investigating to find out more and to make sure this doesn't happen in future.
So yeah, you might want to keep your distance from anyone in a Pudsey Bear suit until they find this creepy character.