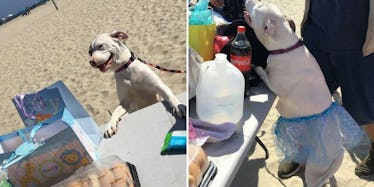 The Happiest Pregnant Doggo Had Her Very Own Baby Shower And Twitter Is Swooning
Twitter / Gisselle O. Suarez
Good dogs deserve to have everything their slobbery heart's desire. And when they're pregnant ("doggo" is a gender neutral term, right?), that includes an epic baby shower. At least, that's the case for pup owner Gisselle O. Suarez, whose pregnant dog's baby shower has gone viral on Twitter for obvious reasons. Suarez shared three photos of her white pit bull, Winter, at her shower, writing, "Yes, we did throw her a baby shower." It might be the sweetest thing I've ever seen.
With a blue tutu wrapped around her puppy-filled tummy, Winter was all smiles in the presence of her favorite humans. While she probably had no idea her day at the beach was actually a celebration in her honor, Winter appears grateful in the snapshots as she eyes a platter of sandwiches on a table beside her presents (wrapped in "baby" bags, OMG).
Honestly, I'm pretty sure any pregnant human would love the same baby shower venue.
Twitter was understandably in love with Winter, but many users were quick to remind Suarez about the importance of spaying animals to prevent overpopulation. To put it into perspective, PETA reports that "just one unaltered female dog and her offspring can produce 67,000 puppies in only six years." (So many puppies.)
Since Winter is already well into her pregnancy, though, I think it's safe for all of us to be extremely happy for the mama pup and her nearly-here litter, pictured below.
"THIS IS SO PURE."
These tears are just allergies, it's OK.
"Me as a dog mom."
People were upset they weren't invited.
Some also wondered whether Winter got to enjoy a sandwich, because I HOPE SO.
Congrats, Winter!
Now all you need is a dog maternity shoot, and you're basically a queen. I hope I look just as pretty at my future baby shower.