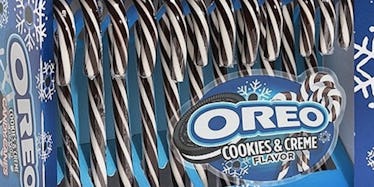 Oreo Candy Canes Are Coming This Year And Suddenly We Can't Wait For Winter
Instagram
I know summer just began, but I'm really looking forward to winter, you guys.
Don't get me wrong: I love warm weather. In fact, just thinking about freezing temperatures is stressing me out a little. But there's something else in the cold months ahead that's worth looking forward to:
Oreo Cookies & Creme Candy Canes.
Yup, you read that correctly: Oreo-flavored candy canes might be on their way onto our trees and into our mouths, and I'm definitely putting them onto my Christmas list this year.
The Oreo-flavored candy cane box was posted to Instagram on Wednesday by one of the sweetest accounts on the internet, Candy Hunting.
The photo's caption reads,
Christmas preview: New Oreo Cookies & Creme candy canes! I highly doubt these will taste like Oreos, but hey, why not brand everything with Oreo to boost sales?
To be completely honest, I'd buy pretty much anything that has Oreo's name on it at this point. I'm a total sucker for cookies 'n creme -- especially if I get to hang the creamy goodness on my Christmas tree.
But, sadly, there's a catch. According to Delish, the Oreo-flavored candy canes won't be available for six months -- just in time for the holiday season.
Of course, people have already fallen in love with the cookie-flavored Christmas treat.
Twitter is super excited for 'em.
They're, like, really passionate about them...
However, we shouldn't get too excited yet. Nabisco hasn't confirmed or denied the Oreo-flavored treat, but until they do, we'll be drooling over the thought of putting them onto our trees (and into our mouths).
If, all the sudden, you're in the Oreo lovin' mood, give their re-released Oreo O's cereal a try.
Boxes of the Oreo-flavored oats just hit the shelves again this June for the first time since 2007, and they'll take you for a trip down memory lane.