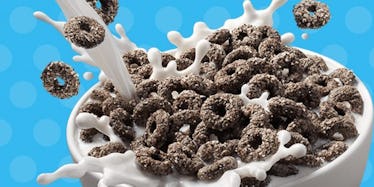 Oreo Cereal Is Coming Back This Month And We Can't Wait To Relive Our Childhood
Post
There's nothing I enjoyed more as a kid than waking up in the morning and pouring myself a gigantic bowl of Oreo O's cereal.
I mean, not much has changed since then. I still start most of my mornings off with a bowl of cereal, but since the infamous Oreo O's were discontinued in 2007, I've had to resort to other options that definitely aren't as chocolatey.
Luckily, Oreo O's are making a comeback this month and we'll finally be able to relive our favorite childhood breakfast again.
I'M SO EXCITED.
The tasty Oreo-flavored cereal initially hit the market in 1998, but was discontinued in 2007 and became unavailable everywhere except South Korea.
It was devastating, trust me. The lack of Oreos in my morning routine really threw me for a loop.
Thankfully, Oreo O's will hit the shelves again on June 10, and we'll be able to indulge in our favorite cookie-flavored cereal once more.
In case you missed the Oreo O's craze when you were younger (I'm so, so sorry if you did), rest assured this cereal does every Oreo justice. The chocolatey-oat pieces contain real Oreo cookie bits and are covered in a sweet cream coating.
Believe me, you're going to have trouble trying not to pour a second bowl.
A spokesperson embellished on the sweet breakfast treat in a statement, and said,
Fans of the iconic Oreo O's cereal will find the product has stayed true to its roots, with Oreo cookie bits and a crème coating combined to make the chocolatey, crunchy O's that can be enjoyed in a bowl with milk, or straight out of the box any time of day!
They aren't lying -- eating them right out of the box is just as delicious, and I'm definitely guilty of doing it in the past.
If you're just as excited as we are, be sure pick a store near you to buy a box of Oreo O's when they're released.
You can use Post's store locater here.