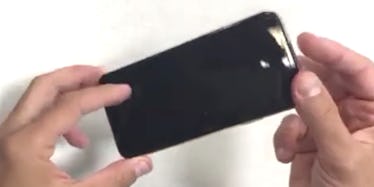 New iPhone 8 "Dummy" Revealed In Another Leaked Video, Because People Can't Wait
YouTube
Those of us anxiously awaiting the arrival of Apple's highly-anticipated iPhone 8 know the struggle.
You know, the struggle of fielding countless rumors about everything from its supposed fingerprint scanner location to the sad fact that production might be delayed.
Because Apple has yet to confirm or deny what we've seen and heard about their new phone, CEO Tim Cook continues to leave us searching for answers.
Enter leaked footage of what's supposedly an iPhone 8 dummy unit:
Translation: This is what your new phone might really look like, people!
The telling footage, which was filmed by Israeli tech journalist Shai Mizrachi and obtained by 9to5Mac, shows all angles of the unit.
It has slender lines, a long vertical camera, a big screen (on par with Olixar's already-released screen protector for the model), and a home button that is MIA, proving that it might be gone forever.
It's gorgeous, TBH.
I'm also blown away by how different it looks compared to my outdated iPhone 6.
Shai's video gets even better when he whips out an iPhone 7 Plus to give us a side-by-side comparison.
The iPhone 8 is noticeably smaller (that's to be expected alongside a Plus model).
However, when he flips them over to show the rear view comparison, you can really see how different the iPhone 8 is going to look and feel.
Featuring longer, rounded edges, the elongated camera looks like it's ready to step up the world's Instagram game. (We're so ready.)
It's still unclear where we'll all be scanning our fingers for entry into our iPhone 8s, but at least clumsy people like me can relish the fact that an Apple supplier recently confirmed it will be waterproof. Score!
While we wait for Apple's official iPhone 8 reveal, read up on all the rumors in our Apple archives.