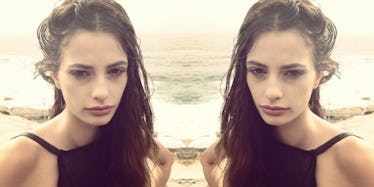 Model Freaks Out On Her Instagram Followers After Getting Only 14 Likes (Photos)
What's up, Aussie models? Y'all have NO chill whatsoever.
Last week, the Internet exploded when an Australian Instagram model deleted her various social media accounts after going on several rants about how fabricated and empty the whole industry is.
This week, another model from Down Unda' named Cassi Van Den Dungen, who has a modest following of just over 9,750 followers, had a very public and very Millennial meltdown after she LOST. HER. DANG. MIND. when a post she uploaded didn't receive the number of likes she thought it deserved.
In the post, Cassi said the picture originally only garnered 14 likes, the lowest amount of likes she ever got on an Instagram post.
In the post, she outlaid her anger with fans, saying,
I have to say I'm pretty shocked because this, to me, either means that people A) don't like me having new adventures, as if I'm not allowed fun, or B) it means people don't like new adventures....... Either way, all I have to say to those people who didn't like my post and don't like having fun is ......YOU ALL SUCK!!!!! Adventures are fun and I'll enjoy every one I have.
Cassi is right, guys. Adventures ARE fun. OK, INSTAGRAM?! If you don't agree adventures are fun and think having new adventures is not fun then you suck!
Since the post went viral, Cassi, who was a runner-up on "Australia's Next Top Model" back in 2009, backtracked a bit on her original post.
First, she uploaded this lighthearted meme of Jack Nicholson playing it RUL COOL to her Instagram.
Then she posted a longer explanation to her Facebook page, awkwardly YELLING at audiences, saying it was just a joke and she likes humor and she's allowed to like humor and has fun and enjoys joking and adventures and having fun, OK?
So let her have fun and play games and use humor and have fun...
Ok ok ok. Looks like my post this morning has gone too far now...... To get things straight and to quote myself it... Posted by Cassi van den Dungen Fan Page on Tuesday, November 10, 2015
There is a happy ending to this all. As of 9:42 am EST on Tuesday morning, the post has OVER 200 likes!
ARE YOU HAPPY NOW, CASSI?!?!
Citations: Aussie model throws tantrum after getting only 14 likes on Instagram (Mashable)