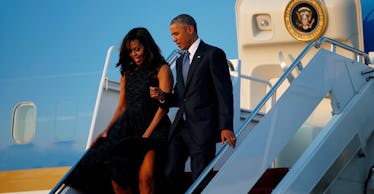 Obama's Adorable Response To Michelle's DNC Speech Is Ultimate Couple Goals
REUTERS
Barack Obama: president of the United States and captain of all our hearts.
He recently gushed over his wife, first lady Michelle Obama, after she absolutely slayed her speech at the Democratic National Convention.
Are you ready for this? It's going to make you weak at the knees.
Deep breath.
Here we go.
Oh, Mr. President, you silver-tongued devil you.
He had us at "incredible," but that sign-off was the stuff of dreams, as though it was worded by God himself: "I love you, Michelle."
Perfect.
Here's part of the first lady's speech that made President Obama swoon hard:
I want a president who will teach our children that everyone in this country matters. A president who truly believes in the vision that our founders out forth all those years ago, that we are all created equal, each a beloved part of the great American story. And when a crisis hits, we don't turn against each other. No, we listen to each other, we lean on each other. Because we are always stronger together. And I am here tonight because I know that that is the kind of president that Hillary Clinton will be. And that's why in this election, I'm with her… I wake up every morning in a house that was built by slaves, and I watch my daughters, two beautiful and intelligent black young women, playing with their dogs on the White House lawn. And because of Hillary Clinton, my daughters — and all of our sons and daughters — now take for granted that a woman can be president of the United States. So, look. So, don't let anyone ever tell you that this country isn't great, that somehow we need to make it great again. Because this right now is the greatest country on earth.
See? Magical, isn't it? You can't write that stuff (unless you're Michelle Obama.)