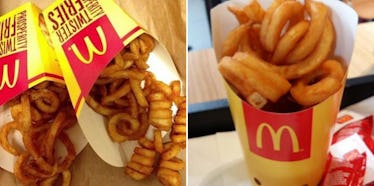 McDonald's Japan Has Curly Fries And Hangry Twitter Wants Them In The US
Instagram/ Twitter
Hold on a second.
Word on the street is McDonald's Japan added curly fries to its menu, and fast food lovers in the US are pretty damn jealous.
Can you blame them, though? These are CURLY FRIES we're talking about. They're far superior to the shoelace fries we Americans are used to ordering off the Dollar Menu.
I mean, look at 'em.
They're making my mouth water.
I NEED THIS IN MY LIFE. (But mostly in my mouth.)
The perfect meal.
So crispy. So beautiful.
UGH, I'M DROOLING.
Aren't you a little angry the US doesn't have these bad boys on the menu? Because I'm pretty sad about it.
Apparently, the special McDonald's treat appeared on the Japanese menu earlier this month and will remain there until the end of February.
That means two things: We can either buy a plane ticket to Japan and stock up on curly fries while we're there, or we can vent about it on Twitter until McDonald's realizes it should bring the tasty treat to the US.
Of course, the internet chose the latter of the options.
People are getting very, very angry.
"I'm weak."
"Wait a fucking second..."
Give the USA curly fries!
God bless the curly fries.
We need them in the USA, ASAP.
Fess up, McDonald's. Why don't we have curly fries?
People are daydreaming about the curly fries.
What the fuck?!
I hope McDonald's hears our hangry cries because we need curly fries in the United States almost immediately.
Until then, we'll remain drooling over the snack from afar and hope we can indulge on them eventually.
News of Japan's curly fries came shortly after McDonald's decided to deliver in select cities, so there's no doubt this fast food chain is making leaps.
If I could have curly fries delivered to my door, I'd be the happiest girl in the world.
Citations: McDonald's Japan now has curly fries and we're very jealous Read more: http://metro.co.uk/2017/01/28/mcdonalds-japan-now-has-curly-fries-and-were-very-jealous-6412211/#ixzz4X5nteFw9 (Metro)