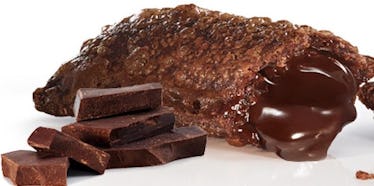 McDonald's Added Gooey, Rich Chocolate Pies To The Menu, But There's A Sad Catch
McDonald's
There's always room for dessert, right? I bet you'd be willing to make room for this fast food chain's newest sweet treat. McDonald's Rich Chocolate Pies are a thing now, guys. The confection is made of a chocolate crust, filled with molten chocolate, but... it's only available in South Korea.
When you think of a McDonald's dessert, you probably conjure up images of their iconic handheld apple pies. Delicious as they are, there is always room for improvement, and I am totally open to any and all changes that involve chocolate. According to Teen Vogue, the newest fried hand pie debuted last week.
The all-chocolate pastry looks indulgent and perfectly Instagram-worthy. All you need is a plane ticket and passport to get your hands on what looks to be the most perfect PMS remedy ever created. The good news is that if you do make the trip, you'll be able to indulge for under $2 (or 2,000 won). Satisfying a sweet tooth on a budget is a must when you're traveling halfway around the world.
If you're stuck stateside, your imagination will have to get you through until McDonald's decides to expand their newest offering. Good thing there is this drool-worthy pic to tease the sweet possibility.
Bring this to the US @McDonalds . We need our chocolate pies!!! https://t.co/ySBF4Z6aBI … via @Mashable — Kim D. Nguyen (@LionKimn) August 17, 2017
The good news is that McDonald's is always shaking it up (an extremely delicious shake-up), so you never know what might be coming to the menu next time you visit the golden arches. You can even get your favorite order delivered right to your door through UberEATS. So while you wait for the arrival of gooey chocolate filling in your local McDonald's, you can kick it old school with an apple pie without having to step away from your latest Netflix binge.