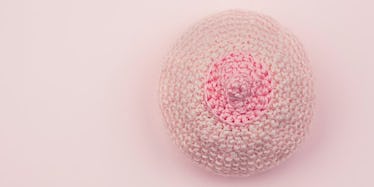 These Women Matched Their Lip Color To Their Nipple Color And It Weirdly Works
CactusBlaiBaules
A few weeks ago, we told you about the latest "medical discovery" set to switch up beauty routines forever.
The news was revealed in a recent episode of "The Doctors," which told viewers the perfect lipstick shade can actually be found by matching it to your... nipples.
Every woman in America sat imagining her nipple color spread across her face, but five women at Marie Claire actually tried out the theory. The results were surprising because they actually looked amazing in the shades.
As the daughter of a painter, I can't wait to try out my genetic color-matching skills out on this theory myself. Here are a few of the results:
1. New favorite color.
"Because I'm on the pale side, I thought a nipple-matched lip shade would wash me out. And of course, in my head, my nips were also some shade of baby pink, which I quickly realized is not the case. After swatching three colors that seemed identical, I settled on a dusty rose hue that was surprisingly flattering once applied. It grew on me so much that I stole it from the shoot — sorry, guys! I also dug how feminine the process was … you can't get any more 'natural' than this." -- Taylore Glynn, beauty and health assistant
There's something really funny about discovering your nipple shade isn't what you consider to be ideal, then walking around with a purple color you like and telling everyone it's your nipple shade anyways.
2. Color-matching theory, FTW.
"This color-matching theory is definitely onto something. It was challenging to match the lip shade with my nipple — could have used better lighting and a second opinion, honestly — so I don't think the shade I put on was actually a perfect match. I still liked how it looked, and making everyone around me uncomfortable when I told them I was wearing my nipple shade." -- Rosa Heyman, social editor
Honestly, making people uncomfortable about my nipple shade sounds like it could be the best thing about this whole project.
3. An everyday staple.
"I was SO EXCITED to put this philosophy to the test! However, I was underwhelmed by the end result as I own several lipsticks in the same hue anyway. It did seem flattering in a subtle way. But turns out the shock value was far more conceptual than visual." -- Jazmin Jones, video editor
Jazmin had a really good way of putting it, but even if the value of the experiment is more conceptual than visual, I'm still down to give it a shot.
Now I just need to start buying lipstick.