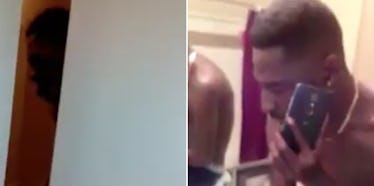 Guy Caught Calling Another Girl, Uses Mannequin Challenge To Play It Down
Twitter
If you haven't attempted the Mannequin Challenge yet, you're missing out. All the cool kids are doing it.
No, seriously. Everyone from Destiny's Child (yes, actually) to Hillary Clinton has attempted the challenge, which requires everyone to freeze in whatever position they're in and capture it all on camera.
Here's an example.
While it's not hard to see why this challenge has become a viral trend in just a few days, I had no clue the Mannequin Challenge could be used to downplay getting caught doing bad things.
That's exactly what one dude did after he was secretly filmed by his girlfriend while talking to another girl on the phone in the bathroom. The epic footage was shared on Twitter and has managed to rack up thousands of retweets and likes.
The video begins with the guy's incredibly patient girlfriend standing by the door as her boyfriend talks to another girl on the phone. Why exactly did he have the door open? We'll never know ,but he did.
After about 25 seconds, the woman enters the bathroom and asks "So, who you on the phone with?"
His face? Priceless... He didn't even look up at her once.
BUSTED.
At that very moment, the dude instantly snaps into Mannequin Challenge-mode. I'm not kidding.
He ACTUALLY froze up as if he was attempting the Mannequin Challenge for a cash prize, or something. The best part? He even mentioned that he was doing the challenge during his ramblings about why he was on the phone.
Here's the moment when some guy used the Mannequin Challenge as his excuse after getting caught talking to another girl on the phone by his girlfriend.
He just got caught on the phone with another girl and did the mannequin challenge to try to get out of it pic.twitter.com/7vFrtajLAK — WORLDSTARHIPHOP (@WORLDSTAR) November 8, 2016
This is straight-up SAVAGE!
At this point, I think it's safe to say we've seen it all thanks to the internet...
Oh, and do yourself a favor -- don't try this at home. You're just going to look as foolish as this guy does!