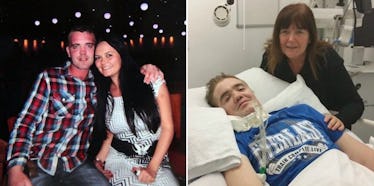 Man Whose Head Was Ripped From His Spine In Crash Marries GF Days Before Death
Pepsi Cowan/GoFundMe
Though the odds were against him after having his head "ripped from his spine" two years ago, Tony Cowan was able to achieve his one wish before shutting off his ventilator.
The 31-year-old married his girlfriend of 12 years, Karen Dawson, just four days before passing away in the hospital, surrounded by his family, according to Metro.co.uk.
"It was amazing and it was happy and sad because we knew what was coming," Karen told Chronicle Live. "He always wanted to get married but we just never got round to it."
Tony's family, along with the hospital employees, decked out his room with lights, ribbons and sheets to give it an uplifting, wedding feel. It was there that Tony read his vows to Karen, and they officially became husband and wife.
The original plans for a wedding were not until May of later this year, but Tony insisted on having it sooner because of the severe pain he was experiencing.
Back in 2014, after losing control of his car, Tony sustained his spinal injuries, which most doctors deemed "unsurvivable."
"He would have carried on living like that, it was just the pain," Karen said. "There was nothing they could do."
Karen was his full-time caregiver and provided around-the-clock care for him following the accident. She stood by his side until the very end.
"I just want everyone to know how proud I was of him," Karen said. "He was strong and determined but it was the pain in the end that took him."
After Tony's passing, his family decided to bury him with the wedding gown Karen would've worn had they had a regular ceremony outside of the hospital.
Even under these unfortunate circumstances, it's still beautiful to know the two were able to fulfill their dream of getting married before officially turning off the ventilator.
It's instances like these that make you want to live in the moment, like each day is your last.
Citations: Man whose head was ripped from his spine in crash marries before life support turned off (Metro UK), Chester-le-Street miracle man weds sweetheart bride - four days before switching off his life support (Chronicle Live UK)