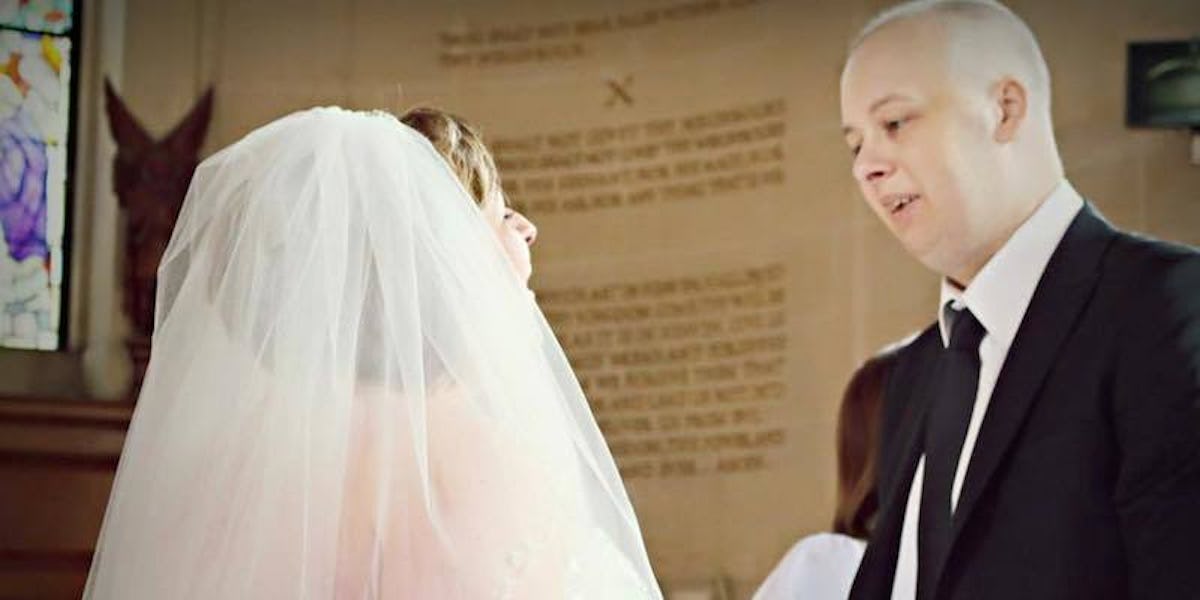 Woman Plans Her Wedding In Six Days After Fiancé's Terminal Diagnosis
Caters News Agency
Since 2013, Jack Jordan has been fighting leukemia and, for the last year, waiting to start his life with partner Laura Cant.
When doctors explained he had only three weeks left to live, Jack wondered why he ever hesitated.
The Torquay Herald Express reports Jack, 23, and Laura, 24, wed April 16 and were the first couple to have their ceremony in the Torbay Hospital Chapel in England.
They put the traditional Church of England ceremony, which Laura described as a "fairytale," together in just six days.
The couple, who got engaged this past Christmas, planned to build a life together.
Their budding family included Laura's 2-year-old daughter from a previous relationship.
Roughly 80 people reportedly attended the one-of-a-kind wedding.
The day came together much like any other wedding.
But, the celebration was even more poignant because Jack and Laura have only a short time left to spend together.
Laura told media she's been Jack's wife for a long time, even if it hasn't been official.
She said, "It was an emotional but wonderful day."
"It is like it's meant to be."
"I've always been his Mrs. Jordan, just never signed the dotted line."
"Jack didn't want to leave until he was any less than my husband."
They are strengthened by a bond that has weathered the illness and uncertainty.
Their wedding didn't go unnoticed, either.
The couple, who are fans of Ed Sheeran, received a video from the artist congratulating them on their wedding.
He advised them to "drink a lot, dance a lot and have a lot of sex."
The couple already purchased tickets to Sheeran's concert but won't make it before Jack's death.
After an extraordinary year together, the Jordans will soon have to say "goodbye."
Citations: Bride arranges wedding in just SIX DAYS after being told fiance suffering with leukaemia has just weeks to live... and Ed Sheeran even sends them a personal video (Daily Mail)