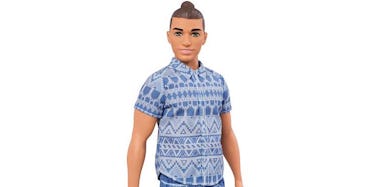 Ken Doll With A Man Bun Exists, And Twitter Is Having A Hard Time Accepting Him
Barbie
Barbie's longtime beau, Ken, has always been known for his good looks. People have even gone under the knife to achieve his chiseled features IRL.
Now, as of June 20, he has a man bun, wears patterned button-downs, and probably lives in Brooklyn.
In other words, his new lifestyle is more #relatable than ever.
Barbie and Mattel announced Ken's hipster makeover as a part of a wider launch, Barbie Fashionistas, that introduces 40 new and diverse dolls with seven different body types and 11 different skin tones.
The new "Next Gen Ken" -- available in broad, slim, and original body types -- and his so-called "new crew" are your typical millennials (one Barbie even has blue hair).
But like real-life man buns, Ken's new 'do has been met with mixed reactions on Twitter.
(In case you're wondering, yes, I'm sort of into the bun but hate his shirt.)
Some Twitter users speculated about Fashionista Ken's spending habits.
Burn.
Others were confused.
Some were all for Ken's new look.
Seriously though, why do I want to purchase man bun Ken?
By the way, all the Barbie dolls in the new Fashionista crew retail for just $9.99, which honestly is probably more affordable than Ken's slow-roasted Fair Trade organic morning coffee habit.
Others took the opportunity to comment on Ken's penis (or lack thereof).
Hehe.
They also joked about his presumed personality.
(Barbie probably puts him in his place, though.)
Then, there's Vine star Corey Scherer who coincidentally looks just like the new Ken.
OMG, they're even wearing a very similar shirt. Corey made his own hashtag to document their similarities: #CoreyDoll.
The resemblance is uncanny!
But on a real level, man bun Ken is missing an accessory.
An avocado, duh.
Here are some more non-food suggestions for Mattel: a coffee cup, a skateboard, a ukulele, etc.
What do you think of Ken's makeover?
The verdict is still out on Twitter -- but, like I said, I dig it.